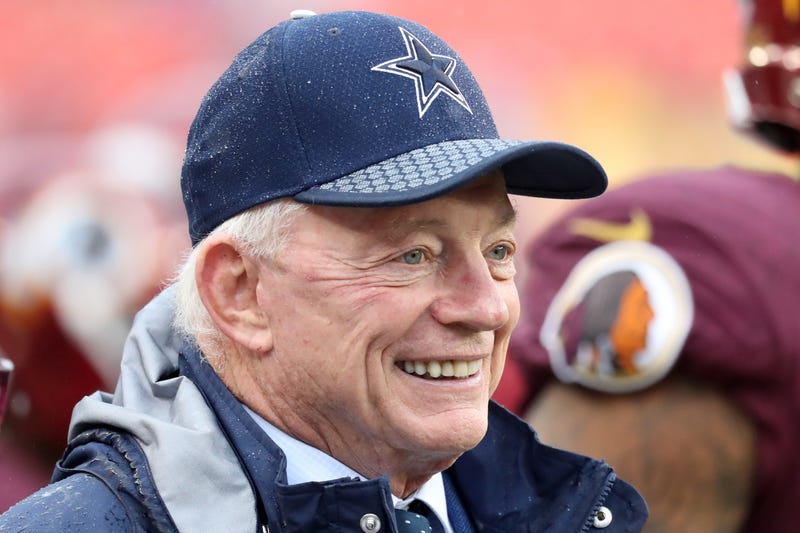 Jerry Jones, the good ole boy owner of the Dallas Cowboys; the spark plug and igniter of racial flames in the NFL; the spouter of the phrase "toe on the line" to explain how all his players would not be protesting during the national anthem—won't comment on footage showing him wearing his hat as the anthem played.

Although Michael Jordan's "Republicans buy sneakers too" (a statement he might not have actually said) is oft-cited as a juxtaposition to the very public activism from many contemporary athletes, he was definitely not the only star of the '90s finding oxygen and endorsements behind the both sides shield. Where a…
It's Friday, so you know that means that the president of people who buy hotdogs at gas stations is rage-tweeting again. First, he targeted his former lawyer and personal fixer Michael Cohen's claims that he knew of the 2016 meeting his dumb son, Donald Jr., aka Not-Ivanka, had with a Russian operative who promised…
When I moved to D.C. in 2001, I decided to adopt the Washington RacistNames (real name Redskins, or Skins for short) as my NFL team and follow them exclusively. This was a fairly easy decision because short of the Oakland Raiders and mostly because of Bo Jackson, I never had a "team" per se. I was mostly a fan of…
I won't lie—It didn't sit well with me when ESPN sports personality Jemele Hill issued a statement saying she "deserved that suspension" following the social media backlash over her controversial tweets about President Donald Trump and Dallas Cowboys owner Jerry Jones. I absolutely get that jobs are scarce and nice…
Y'all's president is tweeting about the National Football League again. Shortly after that guy who lives in the White House woke up, submerged himself in a vat of Cheetos dust and ate his leftover KFC thigh and wing (Original Recipe, of course—not those newfangled crispy or spicy concoctions made after America stopped…
The president of the United States and his administration are in a de facto state of war against anyone who isn't male, anyone who isn't straight, anyone who isn't white, anyone who isn't Christian, anyone who isn't wealthy, and anyone who doesn't place the interests of straight and wealthy and Christian white men…
A Louisiana district attorney, Jerry Jones, has declined to bring charges against two University of Alabama football players, citing insufficient evidence to prosecute the case, KNOE-TV reports.