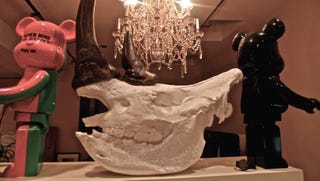 Swizz Beatz has influenced the zeitgeist for over a decade, from crafting hit records since the '90s to now serving as Creative Director for Reebok Classics, a move that saved the brand from extinction. Yet for all his endeavors, Swizz's passion for painting and mixed media may be the most intriguing. With whispers circulating of his first solo exhibition and possibly his own gallery, Swizz is forging an art movement that builds on his desire of becoming the premier steward of the culture he loves.
Find out about it at Uptown.
Read More: http://uptownmagazine.com/2013/03/art-twin-passions/
UPTOWNmagazine.com  is the hub for conversation about luxury lifestyle, entertainment, and pop culture for African-Americans.