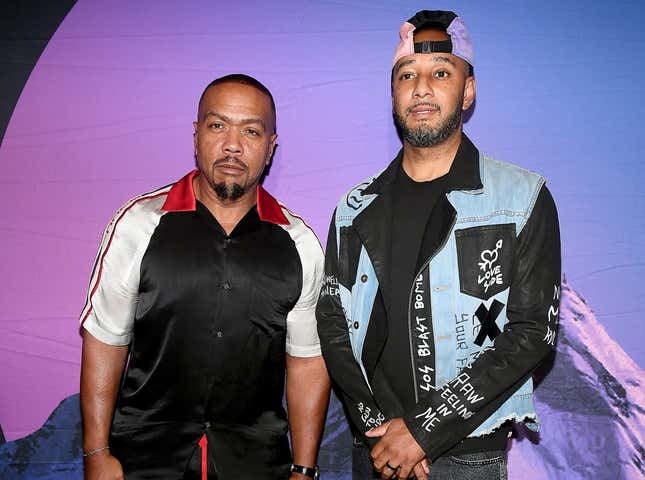 Updated on 8/18/2022 at 12:05 p.m.: In response to the lawsuit from Swizz Beatz and Timbaland, Triller has put out a statement addressing the allegations and explaining:
"We do not wish to air our dirty laundry in the press, but we have paid Swizz and Tim millions in cash and in stock," the company wrote according to Billboard. "No one has benefited as much from Triller to date. Triller has helped fuel Verzuz to new heights–making it the global cultural phenomenon it is today. We hope to resolve this amicably and quickly, and truly hope it's just a misunderstanding. If we are forced to defend it, we are more than optimistic the truth and facts are on our side."
Per The Verge, a longer statement from an official spokesperson for Triller also noted that the platform would be countersuing Swizz and Tim for $50 million:
"First and Foremost this is not a feud over Verzuz. It is personal to Swizz and Tim. Swizz and Tim have Personally been the greatest beneficiaries of Triller to date, having been paid over $50 million in cash and stock personally, already. This is nothing more than a performance dispute on personal payments to Swizz and Tim. On top of the $50 million they were paid, They have annual obligations, which if met, and no breach has occurred, allows them to an annual payment. Only one payment of $10m was in question.

We don't believe they have met the thresholds for thar [sic] payment, including, but not limited to, failure to disclose obligations to labels, and we have been trying to resolve it amicably. It is unfortunate they elected to elevate this to the press and a 'legal shakedown' and to further claim we now also owe them payment for one year from now. That has its own set of deliverables which include, but are not limited to, delivery of a set number of Verzuz for 2022. We hope this was just over zealous lawyers jumping the gun.

Either this will settle or a legal venue will weigh the evidence and determine if Swizz and Tim are entitled to what are effectively 'earn out performance payments', if they did or didn't perform and if they did or didn't properly disclose. This does not Affect Verzuz operations or Triller's ownership of Verzuz. Swizz and Tim failed to disclose both trademark and label issues which are far in excess of $50 million dollars. Our counter-claim will be forthcoming and will be in excess of $50 million in damages for, among other things, false reps and warranties, failure to disclose label payments owed and failure to disclose certain trademark issues, among others. If this does proceed in court we look forward to putting on our case."
See the original story below:
It looks like there's a new Verzuz battle on the horizon—only this time, it involves the creators of the popular pandemic music battle series, super producers Swizz Beatz and Timbaland and social networking service Triller.
On Tuesday, it was revealed that Swizz and Tim were suing Triller for breach of contract, citing the platform's decision to default on their original acquisition deal and subsequent settlement and payment agreements. Per The Hollywood Reporter, after Triller acquired Verzuz, payments were set to be made "first at closing, another shortly after and two more on the first and second anniversaries of the deal." However, Triller only paid the first two payments and defaulted on the third back in January.
As a result of that, in February, all three parties entered into a new settlement agreement where Triller would "pay them $9 million each no later than March 17 (and earlier if the company were to reach a minimum funding threshold). After that, Triller would pay them $500,000 each on the first of the month for 10 months. That timeline would be accelerated if the company received $100 million in funding or if it had closed its proposed merger with SeaChange International. An additional $120,000 was tacked on for the producers' legal fees." But once again, Triller defaulted and never paid any of the amounts owed, thus resulting in this suit. Because of this, Swizz and Tim are now seeking a grand total of $28,095,000 plus attorneys' fees and costs and pre-judgment interest.
As previously reported by The Root, when the news of the acquisition went public last March, many online were skeptical about whether or not the business move would prove beneficial to the popular music battle citing concerns that it would value profits over people (a.k.a. the artists) and the elements that made the series so fun in the first place. However, Swizz and Tim were adamant that this new direction was a positive for all involved.
"We wouldn't build something so great for it not to be about the culture," Swizz told The Root in an interview at the time. "At the end of the day, we took something that was built by the creatives, kept all 43 creatives with us, Black creatives,[allocated] equity in a billion plus dollar company and I don't know how that's not for the culture."
"It's by the artist, for the people. We, as the creatives, build so many companies but we're never a part of the IPO. They always use us to get to the IPO. All 43 of those artists plus me and Tim are a part of that IPO," he concluded.
It will be interesting if and how this suit will affect Verzuz battles moving forward.