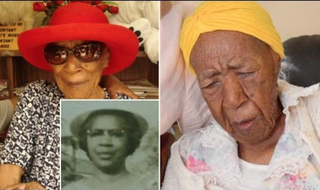 Susannah Mushatt Jones, the world's oldest person, died Thursday at the age of 116. Jones, who had been ill for 10 days, died at a public housing facility for seniors in Brooklyn, N.Y., where she had lived for the last 30 years, the Associated Press reports. Her death leaves Emma Morano, a few months younger than Jones, as the world's oldest person—and the last living person born in the 1800s.

Jones was born in Montgomery, Ala., in 1899. She was one of 11 children who worked full time helping her family pick crops. In 1923, just a year after graduating from high school, Jones left the South for New Jersey and eventually made her way to New York, where she worked as a nanny.
Although Jones never had kids of her own, Jones' niece Lois Judge told AP, "She adored kids."
Family members attributed her long life to her love of family and the fresh food she grew up eating on the farm her family owned, AP reports.
After moving to New York, Jones and friends started a scholarship fund to help young African-American women go to college. AP notes that Jones "was active in her public housing building's tenant patrol until she was 106."
Jones officially became the oldest person in the world, according to Guinness World Records, after 117-year-old Misao Okawa died in Tokyo.
Read more at the Associated Press.