Zoë Kravitz has been on a roll lately. She was the face of Saint Laurent's fall campaign, paid homage to her famous mama on the cover of Rolling Stone, and has a major role in brand new box office hit, Fantastic Beasts: The Crimes of Grindelwald.
Oh, and did we mention that she quietly got engaged?
With a dazzling career upswing and diamonds on the brain, it likely shouldn't have come as a surprise to see the uber-cool Kravitz starring in legendary jeweler Tiffany's holiday campaign, playing a shopgirl-turned new-millennial Alice in Wonderland alongside Naomi Campbell as The Mad Hatter and a host of other famously fashionable faces.
Frankly, we think dad Lenny Kravitz might've made a great Cheshire Cat-like cameo in the spot, which reimagines Wonderland as a holiday workshop where one is magically bedazzled—with trinkets from Tiffany, of course. (No word on where those diamonds are sourced these days, so please don't @me.)
As Kravitz told Elle, her history with the brand actually began as a gift from her father. It was the iconic Tiffany charm bracelet, which she asked for as a teenager, and models again in the campaign video.
G/O Media may get a commission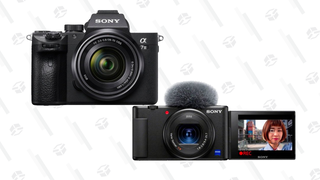 Cyber Monday Deals
Sony Camera Sale
"It was a big thing at my school, "she said. "Everyone else at school had it."
Her engagement ring, however, isn't Tiffany's but a vintage ring from fiancé and fellow actor Karl Glusman."It's been a ring I've been admiring for quite a while and a friend had given him the hint," Kravitz told Elle. "I had no idea he would or even knew about the ring. I was really shocked that he proposed and he had the ring I've been kind of fantasizing about."
And since this is a season when fantasies come true, the Tiffany flagship store in New York City is being transformed into an actual workshop between November 16, 2018 to January 1, 2019, so that shoppers can see their gifts come to life.