The former East Tennessee State University student who wore a gorilla mask and disrupted a Black Lives Matter protest on campus while carrying bananas and a rope has been indicted by a grand jury.
The Associated Press reports that Assistant District Attorney Erin McArdle confirmed that Tristan Rettke of Hendersonville, Tenn., was indicted by a Washington County grand jury on two counts of civil rights intimidation and two counts of disorderly conduct and disrupting a meeting.
As previously reported on The Root, Rettke showed up to the on-campus protest wearing overalls and gorilla mask. He carried bananas, a rope and a Confederate flag. He told Johnson City, Tenn., police that he used the items "to provoke the protesters." Rettke reportedly dangled the bananas, tied with a rope, in people's faces at the Sept. 28 protest.
AP reports that witnesses told the grand jury that Rettke used racial slurs, intimidated them and made them fearful.
From the Johnson City Press:
Thomas Madison, who was not part of the rally but stopped by on his way to a class, said he began videoing and asked Rettke what was his purpose for being there. On the video, Rettke can be heard saying in a muffled voice that he was there to support the protesters.

"He said, 'I identify as a gorilla,'" Madison testified. "I took that as a reference to me being black. And I took him wearing a mask at a Black Lives Matter protest … the fact black people historically have been called monkeys."

Madison also testified that he took the bananas being tied up with rope as "a very serious threat … when you come offer me a banana this close to my face, it's calling me a monkey, and I'm not a monkey," he said, demonstrating that Rettke was just inches from Madison's face during the encounter.

Jaylen Grimes testified Rettke wrapped a rope around the bananas over and over, then pulled the ends of the rope, which sliced through the fruit. Grimes said he viewed the rope as a noose and took it as a reference to the historical lynching of African Americans.
G/O Media may get a commission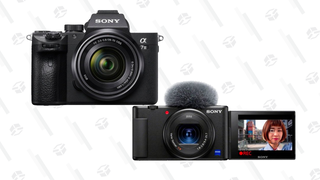 Cyber Monday Deals
Sony Camera Sale
Patrick Denton, Rettke's attorney, says that his client was exercising his freedom of speech and didn't intimidate anyone.
Read more at the Associated Press and the Johnson City Press.