Feathers, tulle, velvet, yards of train and even more star power; the theatrical community celebrated its biggest honors Sunday night at the 73rd Annual Tony Awards at Radio City Music Hall in New York City.
While black talent didn't take home all the Tonys we'd hoped, we nevertheless made a major showing on the red carpet (fittingly backed with a Pride-striped wall of roses), where two of our most daring dressers approached Tony night in dramatically different ways.
It would be no exaggeration to say that former Tony winner and Pose star Billy Porter has become one to watch on the red carpet. Whether in a custom-made tuxedo gown, a cape lined in shocking pink, or entering the venue on the shoulders of six shirtless men, Porter is clearly an expert at making an entrance that defies categorization—or gender.

But get one thing straight: Just because he's wearing a dress (or makeup) doesn't make it "drag."
"I want to flip the question of what it means to be a man," Billy Porter told the New York Times ahead of this year's Tonys. "This question of masculinity, this sort of microscope of heteronormative masculinity that we are very often held up to, especially as leading men, needs to be shattered. You know, it's toxic and I'm over it and I've lived it and I'm not doing it anymore."

G/O Media may get a commission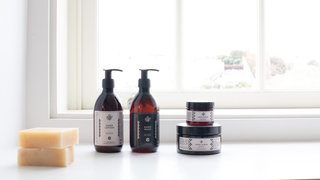 Exfoliate and Hydrate
The Handmade Soap Company
For his first time as a presenter at the Tony Awards, Porter took a nostalgic turn, wearing a piece of his own award-winning history. As the Times chronicled his fitting:
"Pinned around Mr. Porter's body was a hand-sewn Elizabethan gown made from the velvety pomegranate red curtain that had once separated him from the audience for the entirety of his Tony-winning Kinky Boots run: roughly 1,150 shows."
After the show closed last year, handbag company Scenery Bags acquired the red velvet and contacted Porter's stylist Sam Ratelle to see if Porter might want one of their upcycled purses. Instead, Ratelle did one better, contacting upcycled luxury designers Celestino Couture, who also created Porter's gown for the recent Peabody Awards, to create a full ensemble for the Tonys.
"Initially they wanted to do a representation of [Porter's Kinky Boots character] Lola," Ratelle told the Times. "[B]ut I had to go back to them and say, 'He's not a drag queen. He's a man in a dress.' We don't want to confuse people, because he actually is not a drag queen. One day he might want to wear a dress, one day he might not."
"Sometimes it's just a train and some pants," Porter agreed.
In this case, it was slightly more, as the team riffed on Porter's famed Oscar tux ballgown by Christian Siriano, creating a satin-trimmed, double-breasted, velvet vest bodice attached to a full skirt with embroidered panniers exploding with bubble-gum pink tulle and a dramatic train, all worn over matching velvet cigarette pants. The inspiration? "Empowering women's reproductive rights." As the Times reports, there was supposedly even an embroidered uterus somewhere on the gown.
"This is exactly what I was looking for—pants but drama," Porter said.
"I didn't even know I had a desire to wear things that were feminine," he later added. "It was just about wearing something that was different."
It also symbolizes a turning point in Porter's career, which exploded with his Broadway portrayal of Lola and is now thriving on television as well. He returns to his Critic's Choice and Golden Globe-nominated role of the much-beloved Pray Tell on Pose this Tuesday night on FX.
"I don't have to pretend anymore," Porter said of being able to play characters as open in their identities as he is. "When we walked into acting school, the first thing they'd say is, 'You have got to be honest. You have got to be true, you've got to be authentic.' And then they turned to the gay boys in the room and it's like, 'Except y'all. You faggots have to fix yourself.'
"Now I'm being hired for exactly who I am," he continued. "I don't have to pretend anymore."
Another Broadway success story now also turning heads onscreen? Cynthia Erivo, who snagged a 2016 Tony for her role of Celie in the Broadway revival of The Color Purple, and has since made the leap to the big screen, where she will soon play the titular role in the Tubman biopic, Harriet.
"I do feel like there is a moment happening right now for me," Erivo said in her own Times Tony preview. For Sunday night's ceremony, Erivo wore not one, but two custom white gowns by Chris Gelinas, which Erivo's stylist Ade Samuel said represent "the purity of this new phase and this new era," as well as being an indicator that Erivo is "on the precipice of something astounding."

Erivo's citron-tipped feather-laden red carpet look was partly inspired by Josephine Baker. "I have a love for '40s vintage glamour," she confessed to the Times, which explains the accompanying headpiece by Gigi Burris that completed the look, cupping Erivo's close-cropped platinum hair.
"What I love about Cynthia is that she doesn't just have opinions, she has a real vision," said Gelinas.
"This is gorgeous," said Erivo at her fitting. "That has to be where it starts: Am I going to feel good in this, whether or not people like it? If the answer is yes, then it's probably the right thing to wear."

From Regina King to Samira Wiley, what did the rest of our faves wear on Broadway's biggest night? As always, we've got the scoop below.