Spike Lee is well-respected as one of Hollywood's biggest and blackest directors. On Friday, his latest, BlacKkKlansman arrives in theaters; the movie tells the story of Colorado Springs undercover detective Ron Stallworth, a black man who joined the Klu Klux Klan in the 1970s.

Lee admits that he had never heard of Stallworth's story, much less the book (Black Klansman: Race, Hate, and the Undercover Investigation of a Lifetime) he wrote about his experience. Thank goodness for the brilliance of Jordan Peele, who introduced Spike to Stallworth's story.
During a press junket in New York City at a swanky hotel I can't afford, Lee sat down at various tables with black journalists to talk about his film. He shared how he reacted when Peele, who is a producer on BlacKkKlansman, told him about Stallworth's story. "I thought they were doing a Dave Chappelle skit again!" Lee laughed with me and fellow black journalists from HelloBeautiful and Shadow & Act.

"When Jordan Peele approached me, right away, he was like, 'Who's gonna play the part?' In a millisecond, I said, 'John David Washington.' He has the qualities, he has the pedigree and I liked him in Ballers. I felt he could really do this," Lee says.
Lee never holds his tongue. In fact, instead of addressing your lil' president by name, he calls him Agent Orange or more affectionately, "Orange Motherfucker," which is what he called him during our very candid chat.

G/O Media may get a commission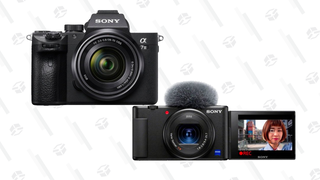 Cyber Monday Deals
Sony Camera Sale
While this was a group interview, The Root was able to ask Lee the following questions about how much the Klan from the '70s mirror the supremacists of today and why white allies matter.

The Root: How did you approach this film to make sure that it told the story correctly?
Spike Lee: This is someone's life. This is a feature film, so we were telling Ron's life. The hip thing I did, we found things in the past that will ring true today, and hopefully people will make the connection and see that this film is very much not a period piece, but is a contemporary piece about the crazy bananas world we live in today.
TR: I was moved towards the end of the movie where you show protest footage from now, drawing a parallel to Klan activity in the past. There was a moment where I paused because you chose to show a lot of non-black people protesting ...
SL: Here's the thing, my sister. If you look the civil rights movement, white people died in Mississippi, Alabama, Kent State during the Vietnam protests. White people have died for justice. So it was not a matter of saying, 'I can't put Heather Heyer at the end of the film because she's not black.

First of all, she was out there protesting those motherfuckers. If you look at Charlottesville footage, those were not all black people protesting, those were good white people who we have alliances with. I didn't tell those people in the film to scream and yell, 'Black Lives Matter!' They were doing it on their own. So I have no problem. Right is right and Heather Heyer is a martyr. She gave her life for justice.

At this moment, another journalist at my table chimed in, seeking clarity: So during the whole film, we see white men and women going against black people ...
SL: But that's not true. It's not the whole film. You can't discount the Adam Driver character. He's the co-star of the film and his superior! For me, I don't think that ... I hope ... first of all we need allies. Susan Bro, she lost a daughter. Her daughter was murdered in a terrorist attack. That was a homegrown, American, terrorist act and we should respect that.

Charlottesville, that was not just black people out there. I had no hesitation at all showing her face the end. She was courageous. It's not a black and white thing for me. Heather Heyer was on the side of truth, of justice. She was out there trying to say no to the Klan, no to alt-right, no to those motherfucking Neo-Nazis.

There were white folks out there in simpatico with us. In the film, we have white folks, yelling and screaming, 'Black Lives Matter!' That should be celebrated!
That same journalist from before mentioned Black Lives Matter beginning after the death of Trayvon Martin and then I added:

TR: The Klan is historically known to hate...
SL: Here's the thing. I respect your opinion, but this is not about Trayvon Martin. Show me where I can show footage of the real David Duke commenting on what happened. Show me footage where I can have David Duke commenting on Trayvon Martin. Show me footage where I can have Trump, woops, I said his name, Agent Orange, talking about Trayvon Martin.
There was no need. This is current. Also, this film is opening on the one year anniversary of the uprising [Editor's note: The Unite the Right rally and Heyer's death happened on Aug. 12]. I wanted to make it contemporary and this guy in the office, he's the one that's bringing about the resurgence of the right. That's why I did that.
TR: When it comes to white allyship, when someone like Lady Gaga gets on Twitter and asks what can white people do and she's met with anger from the black community who has grown weary of explaining everything to white people, what can we do to help fix this impasse?

SL: Any time there's been a movement, it's been an alliance of people. Black folks don't have enough votes to get Obama in the office twice. If every black person voted twice, that still would not be enough votes to get him in office. There's things about alliances, people with the same goals and ideals come together and move forward. We can't just do it ourselves. We have to have a bigger heart to embrace people who are righteous and wanna help us.
Check out the video below from the Brooklyn premiere of BlacKkKlansman.