More than 10,000 music lovers flocked to Penn's Landing in Philadelphia Saturday for the annual Roots Picnic. This year's festival marked the 10th anniversary of the unofficial summer launch party and kicked off Black Music Month. Stars of the past and present came out to celebrate the historic event.
Despite the absence of one its biggest headliners (Lil Wayne pulled out at the last minute because of medical reasons), mesmerizing performances by Solange and Pharrell made the 2017 Roots Picnic a memorable one.
For the first time in days, talk of climate change and the Paris accords took a backseat as concertgoers were blessed with nearly perfect weather. The bash began with Auto-Tuned sounds from Philadelphia native PnB Rock, who served as a good warmup with his energetic set. The tatted artist mingled with his hometown folks after his performance.
Early arrivers were also treated to Chicago artist Noname, whose quirky demeanor is easy to love. Her nasally tone and witty bars meshed well with a three-piece live band. Irish singer James Vincent McMorrow won over a mostly unfamiliar crowd and gained some new fans by the end of his set.
Soon-to-be XXL Freshman Playboi Carti showed off his youthful exuberance, jumping around the Oasis Stage to tracks off his debut self-titled project. The crowd went up when the newest member of the A$AP Mob performed his hit "Magnolia," which was recently featured on an NBA Finals broadcast. Meanwhile, 2016 XXL Freshman 21 Savage got the crowd going with a more laid-back stage presence, allowing his bass-heavy bangers to do most of the work.
G/O Media may get a commission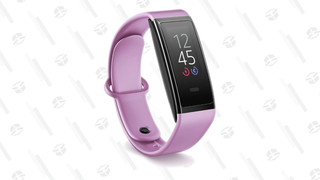 44% Off
Amazon Halo View Fitness Tracker
As the day went on, older more seasoned festival attendees began to file in to see the veteran acts. The legendary Black Thought and Pete Rock performed classic after classic, schooling the younger mumble rappers on how to enunciate. Fat Joe also made a guest appearance during the set to perform his throwback chart toppers "Lean Back" and "Make It Rain." He stuck around to help out with tracks from Black Thought and J.Period's Live Mixtape, along with Mobb Deep and Scott Storch. The mix of nostalgia with the young rappers provided a nice balance of ratchet and righteousness.
Lil Wayne's cancellation caused some confusion with scheduling, and eventually, the listed set times were thrown out the window. Thundercat's funky sounds were heard from a distance, and Young Jeezy was seen from a big screen as we waited at the South Stage for the angel Solange to descend. Jeezy asked the crowd to rep their city by shouting out where they're from, then promptly retorted, "I don't give a fuck where you're from," as his song "Put On" rang off. The man has trap hits for days.
You could feel the crowd getting antsy during the break before the headlining performances. Personal space was a foreign concept as a predominantly black and female audience packed in to witness the majestic Solange Knowles in the flesh.
All of Pennsylvania could probably hear the loud screams as the radiant singer floated onto the stage to the sounds of "Rise," her intro track on A Seat at the Table. Being in the presence of black kings and queens singing "Don't Touch My Hair" and "This shit is for us" from her track "F.U.B.U." was one of the most powerful concert moments I've ever witnessed.
At a time when young girls are being punished in school for wearing their natural hair, Solange flaunts her blackness and encourages others to do the same. Her message of self-love resonated with attendees of all backgrounds, but she made it clear that some things are meant for her people, black people.
"I love Solange. She makes me love myself," was overheard in the crowd. Tears were flowing from nearby audience members. Flanked by security, Solange hopped offstage and came into the audience to touch the fans and still didn't miss a note. She performed The Proud Family theme song a cappella as the sun set with the Ben Franklin Bridge in the background. The scene was downright spiritual.
After the performance, fans were forced to shift gears mentally and physically as the crowd ran over to the adjacent stage to hear Pharrell's upbeat jams. Everyone knows Pharrell has hits, but it's hard to quantify until you witness his show in person. His production credits make his catalog unlike any other, allowing him to perform damn near any song, it seems.
One surprise guest after another popped up onstage during the final hours of the festival. Some guests accompanied Pharrell and the Roots on songs, as Noreaga did with "Super Thug," and Pusha T with "Grindin'." Others, like the wacky Tyler the Creator, showed up with no microphone and were simply there to turn up onstage. The Roots, as always, effortlessly killed it, proving why they have been a staple in hip-hop for 30 years. By the end of the night, the Festival Pier had turned into a party.
Festival organizers and performers pulled out all the stops to celebrate a decade of Roots Picnics, and the event didn't disappoint. Here's to another 10 years.