To say this last year has been a challenging one would be an understatement, but there were some significant bright spots—namely, on the bodies of some of our most famous women. From awards season to the Met Gala and beyond, there were plenty of memorable moments. As is our custom, we have to applaud those who rose to the top this year.
While there are a few predictable winners on this list, some usual suspects will be conspicuously missing—a choice that may be jarring to some and refreshing to others. So, let's review our criteria: First, while we're definitely giving points for onstage attire, originality was a huge draw for us this year—who not only delighted but inspired on the red carpet?
For instance, we love, love, love Meghan Markle's royal glow up, but how much navy can we take? Also, while we all know megastars like Beyoncé and Rihanna typically bring the heat, who came with some truly unexpected, yet ultimately accessible glamour this year? And while Cardi B no doubt had the glow up of the year career-wise, how much of her wardrobe would we really clamor to wear?
And since we realize it takes a village for each of these lovelies to look this good, please also know that our picks pay tribute to the styling teams that make it happen. With that in mind, here were our favorite women to watch in 2018.
Zendaya
For gamine chic, Zendaya nailed it for us. Of course, it doesn't hurt that she's built like a supermodel, but she's also a true fashion-lover who clearly loves to play dress-up ... and we will love seeing what she and her team come up with next.
G/O Media may get a commission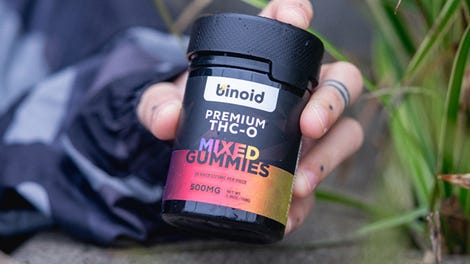 25% Off + Free Shipping
Binoid THC-O Gummies
Tessa Thompson
This indie darling crossed over in a major way this year, on and offscreen. Watching her continually amp up the glamour while keeping her left-of-center streak going strong made for some fashion moments we'll be imitating in 2019.
Kelly Rowland
Yes, yes, Beyoncé ... but for real, for real? We love Kelly Rowland's style, which is always elegant, with just a little edge. This former Destiny's Child is an independent woman now and she wears it well. And can we talk about that hair?
Kiki Layne
She's new on the scene, but clearly a fast learner. Kiki Layne scored her first starring role with If Beale Street Could Talk, and has been scoring on the red carpet all year with her sleek but irreverent style and an array of gorgeous, mostly naturally-textured hair looks.
Tracee Ellis Ross
I mean, obvi. Diana Ross' middle daughter has her mama's flair for the dramatic, as any number of her major looks this year demonstrated. This former fashion editor loves a look and constantly reminds us that risk-taking isn't just for ingenues.
Janet Mock
When it comes to Hollywood glamour, writer, activist and now director Janet Mock has got the goods. Her feminine, shape-loving silhouettes make the most of her curves while giving a fresh take on classic style.
Yara Shahidi
She's outspoken in her principles and unpredictable in her styling, but if anyone knows how to have fun with fashion, it's Yara Shahidi. Always age-appropriate, this ingenue's style ranges from quirky to comfy chic, to gamine glam, and we're here for all of it—and that array of naturally-textured styles, too.
Danai Gurira
She may defend Wakanda and slay zombies, but where Danai Gurira really slays is on the red carpet. Strong colors, bold shapes and daring details are her trademarks, and they only come second to her captivating presence.
Angela Bassett
Admittedly, we'd be ready to give Angela Bassett an award for, well, just looking like Angela Bassett. But Ms. Bassett knows her (very well-toned) body well. This year, she found a silhouette she loved and returned to it again and again, elevating the jumpsuit to new—and enviable—heights.
Ava DuVernay
Another woman who knows her body well? Filmmaker Ava DuVernay, who consistently—and elegantly—navigates the challenges of neither being a sample size nor a woman who likes to show too much skin. And yet, she's not afraid of her curves, or color, giving us ample examples of how curvy, modest girls can still give big-time sensuality.
Thandie Newton
Her wardrobe may be limited on Westworld, but in our world, Thandie Newton knows how to create a fashion moment, whether it's accepting her Emmy in a pink gown worthy of a Motown diva, or having Vivienne Westwood create a frock out of silk customized with only the black actors from the Star Wars franchise. Either way, she's out of this world.
Honorable Mentions
Issa Rae
The Insecure creator consistently held her own on the red carpet—and set off the "all black designers" trend at this year's CFDA awards, to be picked up by Tracee Ellis Ross at the AMAs. Our favorite look of 2018? Her Pyer Moss spangled jumpsuit from that night.
Aisha Hinds
We promise you: very few people are having as much fun with fashion as Aisha Hinds. In fact, few things make us happier than her IG.
Mary J. Blige
When it comes to epic glow ups, Mary J. Blige's award season pretty much killed all other contenders. The level of glamour brought forth proved that being "just Mary" was a very beautiful thing.
Adut Akech
This newly-minted supermodel may have the fashion world at her feet, but she seems to come by her style all on her own. And she proudly rocks cornrows on red carpets from the Met Gala to her native Australia. *swoon*
Dascha Polanco
When Polanco hits it, she hits it hard. Never one to try to hide her bombshell-like curves, this year she proved herself more than capable of serving a good old-fashioned slay.
Did we leave anyone out? We're sure you'll have your opinions on that, and your own faves. Feel free to leave them in the comments below.