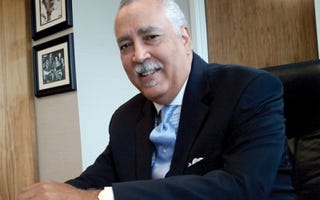 The civil rights community has lost Howard Creecy Jr., the Atlanta pastor who stepped up to lead the Southern Christian Leadership Conference after Bernice King — daughter of SCLC co-founder Martin Luther King Jr. — declined to lead the civil rights organization (link).
The Associated Press received confirmation from the Atlanta-based civil rights organization's national program director that the Rev. Creecy, 57, succumbed to a heart attack early Thursday morning (link).
A Mobile, Ala. native, Creecy was pastor of the Mount Olivet Baptist Church in Fayetteville, Ga., and had been elevated from interim president to president of the SCLC in January. His election to the post followed months of controversy and infighting among regional directors who claimed to have legitimate rights to lead the SCLC. Amid the controversy, MLK's youngest child, the Rev. Bernice King, declined to assume the post she'd been elected to in 2010.
Read about his life at AL.com (link).
In other news: Mo'Nique's Talk Show Canceled?