Scandal is back from winter break, and it's operating in a post-apoc-Olitz-ic world where old alliances were destroyed and strange new ones are being formed out of the rubble.
Olivia and Papa Pope: Remember when Olivia Pope tried to shoot and kill her dad? And then had him sent to prison? And then had him released from prison when he offered her a way out of having to marry Fitz Grant? Well, apparently Olivia and Papa Pope are back on good terms. Scandal returned with Olivia, who is rocking red now that her whole "white hat" jig is up, enjoying a pleasant dinner with her father. Over dinner, Papa Pope nudges Olivia to run for president now that she's gotten a taste of Oval Office power. He's always had big plans and high hopes for his little girl.
Olivia and Jake: Before the winter break, Olivia chose Fitz over Jake Ballard, and Jake blamed Olivia for Rowan killing his wife, Elise. Soooo naturally, Olivia and Jake are back in the bedroom—this time, with all of the heat and none of the warmth. Olivia is not talking to him, and she won't even share her water with him so he can rehydrate after what looked like a really intense workout.
Fitz and Abby: Now that Fitz's relationships with Olivia, Mellie Grant and Cyrus Beene have been destroyed, Fitz has turned Abby Whelan into his "work wife" because she's the only person left whom he can trust. However, being on call for Fitz 24-7 is wearing Abby thin, and it's also taking a toll on her relationship with Leo Bergen. Enough is enough, and Abby confronts Fitz to let him know that she can no longer serve as his "companion animal."
G/O Media may get a commission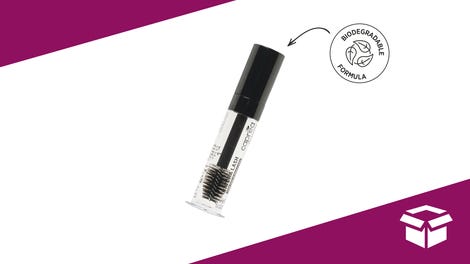 It's $8
20% Off Lash + Eyebrow Serum 2.0 - Caprea Beauty
Jake and Fitz: In the case of the week, someone has framed the director of national security and is trying to get her removed from office. Jake won't help Olivia figure out who it is, and Fitz is "not available" when she calls. As it turns out, Jake masterminded the takedown because he was gunning for the job all along. He convinced Fitz to give him the position, and neither of them let Olivia in on the plan. Bros before hos, huh, guys?
Jake and Papa Pope: When Olivia shows up at Papa Pope's house to confront Jake (who apparently lives there now) about getting the former National Security Agency director fired and killing her boyfriend in the process, it turns out that Papa Pope was in on the plot, too. Knowing that Olivia misses the adrenaline high of running the country, Papa Pope delivers one of his trademark monologues, insisting that she get off the bench and get in the game. In the process, Papa Pope gets all Al Pacino in The Devil's Advocate and refers to Olivia as his daughter and Jake as his son. Does he know the kinds of things they did to each other the night before?
Olivia and Mellie: Mellie has written a book that she hopes will catapult her into the office of the president, and she wants Olivia's opinion on it … and, more explicitly, for Olivia to run her campaign. Initially Olivia passes, but after getting a taste of what it's like to be on the sidelines of power, Olivia agrees to help Mellie win the presidency. 
I predict that Scandal's field of candidates running for president in the next election is going to be as packed and random as the real-world GOP field was a few months ago.
It's only a matter of time before Olivia realizes that she doesn't want to help another Grant get into the White House and decides to run for president herself.
I think Jake is going to go for it, too. Remember when Jake was on Fitz's balcony and he said, "I really have to get myself this view"? Yep, we caught that, and now that he's NSA director, he's one step closer to the White House.
Let's not forget Vice President Susan Ross, who might toss her hat in the ring, too. That would actually be nice, given that she's the only one among them who isn't morally bankrupt.
Who's next? Cyrus? David Rosen? Sally Langston? I mean, if Donald Trump can, you can.
Either way, this should be good.
Akilah Green is a recovering Washington, D.C., lawyer-lobbyist-politico turned TV and film writer and producer living in Los Angeles. She currently works for Chelsea Handler's Netflix talk show, Chelsea. She has also worked as a staff writer for Kevin Hart's production company, HartBeat Productions, and as a consultant for Real Time With Bill Maher on HBO. In addition, she co-wrote and is producing Scratch, an indie horror-comedy feature film, and is a regular contributor to The Root. Follow Green's adventures in La La Land on her blog, Twitter and Facebook.