Updated Sunday, Nov. 19, 2017, 11:40 a.m. EST: Turns out that Russell Simmons may not be as much of a #MeToo supporter and activist as he may have claimed.
Actor Terry Crews is once again adding his voice to those of the unheard, saying that Simmons sent him an email in November regarding his sexual assault case against Hollywood agent Adam Venit, in which Simmons had the gall to ask Crews to give the agent "a pass" and "ask that he be reinstated."
"With great love, all things are possible," ended Simmons' patronizing email to Crews.
G/O Media may get a commission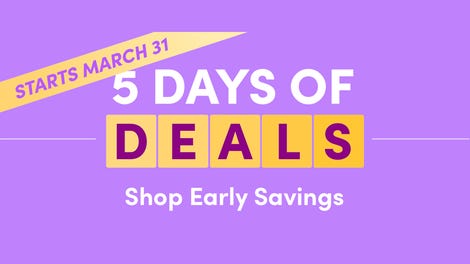 Sale sale sale
Early Savings - Wayfair's Five Days of Deals
Simmons' apparent response to Crews' story is perhaps even more grimy given that Simmons himself is now facing charges of sexual misconduct. He is being accused of assaulting a young model back in the early '90s when the girl was 17.

What he wrote does not sound like the response of a man who supports survivors of sexual assault and sexual abuse, and Crews certainly seemed to think so.
"Dear @UncleRUSH," Crews tweeted early Sunday morning hours after the story was published: "NO ONE GETS A PASS."
In light of the slew of sexual assault and misconduct accusations across Hollywood against actors, agents, producers, directors, comedians and more, Crews represents one of the few male voices added to the ever-resounding claim of #MeToo.
Crews accused Venit of grabbing his genitals while at a party that Crews attended with his wife. When Crews demanded to know exactly what the executive thought he was doing, Venit reportedly just grinned at him "like a jerk."
Earlier:
Russell Simmons is facing new, disturbing allegations of sexual misconduct from a woman who has come forward accusing the famous entrepreneur of sexually assaulting her when she was just 17 years old, while film producer Brett Ratner—with whom Simmons is very close—watched and did nothing.
Keri Claussen Khalighi revealed to the Los Angeles Times that Simmons and Ratner, who at the time was an up-and-coming music video director and Simmons' protégé, took her to dinner one night in 1991 before they took her back to Simmons' apartment to show her a music video they had been working on.
Khalighi said that the music mogul began making inappropriate advances toward her, aggressively yanking off her clothes.
"I looked over at Brett and said, 'Help me,' and I'll never forget the look on his face," Khalighi old the Times. "In that moment, the realization fell on me that they were in it together."
Khalighi accused Simmons of trying to force her to have intercourse with him, but she "fought it wildly." Eventually Simmons gave up and instead turned to coercing her to perform oral sex on him.
The whole time, she said, Ratner "just sat there and watched."
Khalighi told the Times that she felt so "disgusting" after her encounter that she went to take a shower, only to be approached by Simmons again.
From the Times:
Minutes later, she alleged, Simmons walked up behind her in the shower and briefly penetrated her without her consent. She said she jerked away, then he left. "It hurt so much."
As the Times notes, Ratner—who has directed, produced or financed several successful films, including Rush Hour and The Revenant—has recently faced a slew of accusations of sexual misconduct from four other women. A previous Times piece from Nov. 1 also detailed the claims of six others.
Since that report broke, several other women have contacted the newspaper about alleged harassment.
Simmons, 60, released a statement after Khalighi came forward, in which he refuted the account, saying, "Everything that occurred between us 26 years ago was completely consensual and with Keri's full participation."
Simmons referenced his own involvement in social activism as well as his support for the #MeToo campaign.
"I completely and unequivocally deny the horrendous allegations of non-consensual sex against me with every fiber of my being," the statement read. "Let me be crystal clear and very direct. Abusing women in any way, shape or form violates the very core of my being."
Ratner's attorney Martin Singer said that the producer had "no recollection" of Khalighi asking him for help and also denied seeing her "protest."
Khalighi, now 43, told the Times that now is simply the time for the truth to come out.
She told the Times that about a year ago she saw Simmons in West Hollywood, where he "poured his heart out in a really touching, remorseful apology" and offered his telephone number.
"He knew what he had done; I knew what he had done," Khalighi said. "That's also why it was so vindicating, because it was there, acknowledged."
However, Simmons' attorney Brad D. Rose said that the apology was in the "context for the embarrassment and upheaval the weekend caused her" related to her "infidelity."
Khalighi added that she also reached out to Simmons the day the Times published a story about Ratner's alleged misconduct, telling him that she was thinking about coming forward with her own story.
At that time, she said, Simmons did not deny any of her claims and instead apologized.
"They are publicly denying these allegations, which implies that the women who come forward are liars," Khalighi told the Times. "So I'm coming out because what I've experienced privately is not matching what they are saying publicly, and hypocrisy to me is repugnant, and it's time for the truth to come out."