Number of Critics of Color Is Abysmally Low
In the fallout over ABC's cancellation of "Rosanne" over star Rosanne Barr's racist tweet, much of the commentary congratulatory, some critics raised a challenging question: How can the media cater to red-state voters without mainstreaming the racism that too many of them embrace?
"What is America going to do about the normalization of racism?" (video) Don Lemon asked Tuesday on "CNN Tonight."
Roxane Gay, a contributing opinion writer, wrote Tuesday for the New York Times, "The problem is that Donald Trump is a toxic president who amassed his power through the provocation of hate. He has behaved as if conservatism and racism are synonymous when, in fact, they are not. The problem is that having a major character on a prominent television show as a Trump supporter normalizes racism and misogyny and xenophobia.
"President Trump often seems like a living embodiment of Ms. Barr's Twitter feed, and many of his most vocal supporters revel in that. They revel in the freedom and the permission to be racist. The reboot [of 'Roseanne'] contributed to a cultural moment that makes white people feel exceedingly comfortable and entitled as they police black bodies in public spaces. . . ."

G/O Media may get a commission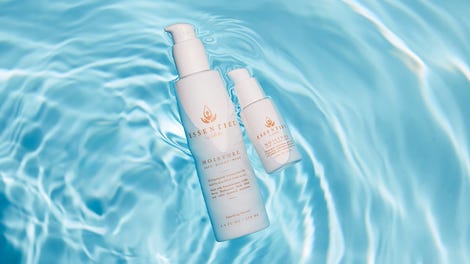 20% off
Essentiel by Adele
Valerie Jarrett, adviser to former president Barack Obama, was the object of Roseanne Barr's fateful tweet. Barr tweeted Tuesday morning that Jarrett is the product of "the Muslim Brotherhood + Planet of the Apes." Appearing at an MSNBC-sponsored town hall on "Everyday Racism in America" that night, Jarrett said "The tone does start at the top" (video), adding that "we like to look up to our president and feel as though he reflects the values of our country. But I also think every individual citizen has a responsibility too, and it's up to all of us to push back. Our government is only going to be as good as we make it be."
Viewers can be grateful that there were African Americans and others of goodwill in positions of power at ABC when "Roseanne" tweeted her poison.
Channing Dungey, who as president of ABC Entertainment became the first African American woman to serve as president of a major broadcast television network in 2016, issued the statement declaring Barr's tweet "abhorrent, repugnant and inconsistent with our values."
Her supervisor, Ben Sherwood, the president of the Disney/ABC Television Group, and his boss, Bob Iger, CEO of Disney, collectively decided that the damage was too great for "Roseanne" to remain, Brian Stelter reported for CNN.
But as others point out, these ABC executives greenlighted "Roseanne" in the first place, despite knowing that "Barr's history of spreading conspiracy theories and sneering at anyone who dared question her is long and omnipresent," as Caroline Framke pointed out in Variety. "ABC Ignored Roseanne Barr's Racism at Its Own Peril," her column was headlined. In 2013, Barr tweeted that Obama adviser Susan Rice, who is black, was "a man with big swinging ape balls."
Alyssa Rosenberg wrote for the Washington Post on April 10, "Variety reported in March that ABC itself had shelved an episode of 'Black-ish' that dealt with social issues including the National Football League players who took a knee during the national anthem, citing 'creative differences' with series creator Kenya Barris. The news prompted speculation that Barris might try to follow [hit producer Shonda] Rhimes out the door."
Rosenberg added, "Dungey's tenure at ABC illustrates the danger of pinning hopes for systemic change on individuals in executive suites. Breaking barriers and serving as a role model is valuable, but it's rarely enough to change the dynamics that govern an entire industry. And it's not necessarily fair to ask these trailblazers to shoulder that burden alone. . . ."
One of the more interesting pieces Tuesday was from Julian Zelizer, a history and public affairs professor, for CNN. He noted that during the Reagan era, "Family Ties" managed to capture "the legitimate ideological tensions of the 1980s that revolved around the role of government and markets as well as the best approach to national security. Yet, with its lovable characters, 'Family Ties' showed that politics can indeed exist among compassion and good intention. . . ." President Ronald Reagan said it was his favorite show.
In USA Today, Carly Mallenbaum did readers a service by anticipating "Roseanne's" supporters' arguments that her fateful tweet was forgivable.
"Bill Maher has compared Donald Trump to an ape." "Jimmy Kimmel made an insensitive joke about the first lady." "Joy Behar mocked Christians on The View."
Fortunately, African Americans in the media, speaking from their own history, broke down why the baggage Barr's tweet carried made it far more offensive.
"My father, a Korean War veteran, told stories about how young Korean women would follow the black soldiers around, hoping for a glimpse of the tail that some of the white soldiers had assured them they had," Dawn M. Burkes wrote in the Dallas Morning News. "That's just one tale out of time about people debasing and belittling black people by resorting to likening them to apes. . . ."
Touré wrote for thegrio.com, "Anything is possible when you believe a person is less than human. The success of [Jarrett] and Rice does not serve as insulation from these insults but rather helps[deepen] the cut — it says no matter how high you get, no matter how much education you acquire, no matter how dignified you are, we'll still see you as nothing more than a simple, wild ape. . . ."

The number of news stories that called Barr's comments racist — and not some weasel word — was impressive. Still, some shied away.
Erik Wemple catalogued them for the Washington Post:
"The Hollywood Reporter: 'Roseanne Barr on Tuesday attacked former President Obama White House adviser Valerie Jarrett in a since deleted tweet alleging connections to the Muslim Brotherhood that is being called racist by many.'
"Breitbart: 'Roseanne Barr Quits Twitter, Apologizes for Racially Charged Valerie Jarrett Tweet.'
"Newsweek: 'Wanda Sykes Quits "Roseanne" After Barr's Racially Charged Twitter Rant.'
"The Wrap: 'ABC has canceled "Roseanne" after Roseanne Barr's racially charged tweet . . . "
The number of television critics of color is appallingly low, especially those who are African American. Gilbert Cruz, who is Latino, in January was named culture editor of the New York Times , and on Friday, the Times named Aisha Harris, who is African American, as assistant TV editor.
Neal Justin, who is Asian American, is television critic at the Star Tribune in Minneapolis. African Americans and Native Americans are few and far between. (The Los Angeles Times is looking for a television and film reporter).
Soraya Nadia McDonald wrote about the diversity issue for the Undefeated in 2016, when she joined the Television Critics Association press tour in California. She said it felt "like a weird anachronism.
"For starters, it's noticeably, abnormally, uncomfortably white. Melanie McFarland, the television critic for Salon who currently serves as treasurer of TCA, estimated that out of the organization's 220 or so members, 'you can generously say like 20 or 30 of them are people of color … in proportion, it's not a whole lot of us and it never has been.' When I attended this summer, I counted seven black journalists, including myself. . . ."
It's symptomatic of a larger media issue, of course.
The Washington Post's Wesley Lowery tweeted Sunday, "During a presidency in which immigration (specifically, the treatment of Hispanic and Muslim immigrants) is perhaps the most major policy issue, how many outlets have a Hispanic or Muslim reporter covering the WH?"
McFarland is not so willing to give ABC a pass on the "Roseanne" issue.

"It should have given pause to Dungey, the first African-American woman to serve as a broadcast network's president, to see another black woman compared to an ape," McFarland wrote. "Or maybe it would have if Barr hadn't already done that five years ago, in 2013, when she referred to then-National Security Advisor Susan Rice, as 'a man with big swinging ape balls.'
"In most of these cases, she's apologized. Do it once, it's a mistake, maybe. Do it again, and again, and it's a pretty clear indication of how a person like Barr thinks and more to the point, what she really thinks about the woman who hired her. This was in Barr's nature. She made no secret of it; people have been aware of her bigotry for some time.
". . . And it could have easily been avoided if ABC hadn't ignored years worth of warnings about the dangers of giving Barr another ride. . . ."
Eric Deggans of NPR, another African American, said Tuesday on "NBC Nightly News," "Networks should be more careful about who they allow to top their most prestigious shows, (video) and there should be an understanding about where that line is and that open racism is not tolerated."
So the "Roseanne" show is history, at least for now. Zelizer, writing for CNN, concluded with a question for the future. "The continued assumptions that as a nation we won't allow public figures to 'go there' [keeps] proving to be misplaced when such rhetoric is not met with consequences. This time a television network took swift action. The question is whether anyone else with influence will be willing to do the same the next time this occurs."
Blavity: Now That ABC Has Cancelled Roseanne, Black Folks Have Just One More Request Of ABC
Dawn M. Burkes, Dallas Morning News: I'll say it: 'Roseanne' deserved to be canceled
Jane Coaston, vox.com: ABC canceled Roseanne's show over a racist tweet. Her feed's been full of racism and conspiracy theories for a decade.
Ellen Gray, Philly.com: I was surprised ABC canceled 'Roseanne' over tweet — here's why I shouldn't have been
Solomon Jones, Philadelphia Daily News: With black women in power, Roseanne's show never stood a chance. Thank God.
Bill Keveney, USA Today: Roseanne will never change, and that's why her No. 1 show is now canceled
Gregory Korte, USA Today: Valerie Jarrett responds to Roseanne Barr: The tone starts with the president
Melanie McFarland, salon.com: The steep consequences of ABC's bet on Roseanne Barr
Sebastian Murdock, HuffPost: ABC Knew Exactly What They Were Getting With Roseanne Barr
Troy Patterson, New Yorker: Much Like a Trump Rally, the End of "Roseanne" Felt Both Shocking and Inevitable
Jason Schwartz, Politico: Why ABC had no choice but to dump Roseanne
Brent Staples, New York Times: The Ape in American Bigotry, From Thomas Jefferson to 2009 (Feb. 27, 2009)
Touré, thegrio.com: The disintegration of Roseanne Barr shows the power of Black women in Hollywood and the rise of class over crass
Erik Wemple, Washington Post: ABC wouldn't have canned 'Roseanne' over a mere 'racially charged' tweet
---
Support Journal-isms Go Fund Me page. 
Richard Prince's Journal-isms originates from Washington. It began in print before most of us knew what the internet was, and it would like to be referred to as a "column." Any views expressed in the column are those of the person or organization quoted and not those of any other entity.
Send tips, comments and concerns to Richard Prince at journal-isms-owner@yahoogroups.com.

Follow Richard Prince on Twitter.
Like "Richard Prince's Journal-isms" on Facebook.
Journal-isms is originally published on journal-isms.com. Reprinted on The Root by permission.