In 2005 an unknown singer from Barbados stepped on the scene with Pon de Replay. Little did people know that nine years later, Robyn Rihanna Fenty would become not only one of the world's top-selling recording artists but also a fashion icon.
On Monday night Rihanna was honored at the CFDA (Council of Fashion Designers of America) Fashion Awards, and to say that her dress was the main attraction would be an understatement. Forever the bold one when it comes to her fashion choices, Rihanna was covered (barely) in more than 200,000 Swarovski crystals. Her see-through dress exposed her breasts, but she did wear a nude thong to hide her other unmentionables. Rihanna's choice of old-school glamour was reminiscent of the great Josephine Baker, who pushed the envelope with her infamous banana dress.
Rihanna's dress has been the talk of social media for the last 24 hours. Sure, there are those who feel that she should have covered up her nipples and find some modesty.
Take, for example, this tweet:
https://twitter.com/commedefckdown_/status/473928575301992448
So because Rihanna has on a see-through dress, she's a ho? Judgmental much?
For the life of me, I can't seem to understand why there's always an issue when a woman bares her nipples, but it's perfectly OK for a man to jog around shirtless, perform shirtless, or even appear in print advertisements with his nipples exposed. 
G/O Media may get a commission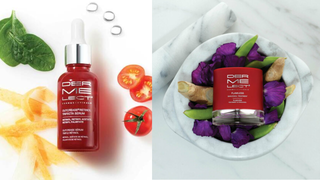 Save $19
Retinol Renewal Kit
But there are others who are completely enamored with Rihanna's ability to constantly push the envelope when it comes to fashion and could care less that she was exposing body parts: 
https://twitter.com/beneviera/status/473902831658106882https://twitter.com/ceeniam/status/473937414394638339https://twitter.com/chrisalexander_/status/473912380486070272https://twitter.com/dirtygoId/status/473908068074266626https://twitter.com/femmeminem/status/473898981245059073
Once again, Rihanna has people talking, which she's pretty much mastered in her career. The envelope Rihanna constantly pushes when it comes to her fashion is why Anna Wintour, Vogue's editor-in-chief, honored her. Now, if only people could stop acting as if nipples are so blasphemous. 
Yesha Callahan is editor of The Grapevine and a staff writer at The Root. Follow her on Twitter.
Like The Root on Facebook. Follow us on Twitter.