"OK, so now that I'm 30, are there things I'm supposed to do? Should I be worried? Should I be freezing my eggs? What do you do at 30?!" Rihanna, it turns out, is just like the rest of us, judging by her funny and frank interview accompanying the knockout-gorgeous June cover of Vogue.
Curled up on the couch in her suite at the Four Seasons Hotel in Paris, swaddled in a cushy bathrobe and Fenty slides (I wonder if she's wearing a little something underneath from Savage, her new lingerie line poised to drop May 11), the star shared her next-level life goals and career plans with the magazine.

Since we heard Rihanna sing "Shine bright like a diamond ... " only six short years ago, she has gone supernova, lighting up the pop-star universe with her brand of fearless creation like no other singer of her generation.
G/O Media may get a commission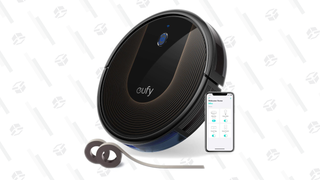 48% Off
Eufy BoostIQ RoboVac
Rihanna is indeed a mastermind when it comes to both artistry and business. Fenty Beauty sent the beauty industry a clapback for its lack of diversity, and consumers sang its praises to the tune of $100 million in sales the first year. Then there's Fenty x Puma (I personally may have spent much on sneaker drops and sweats that drip with her high-fashion street cred sensibility).
Making mastermind moves is also a RiRi specialty. Last year alone, her famous West Indian work ethic gave new dimension to multitasking: Launched Fenty Beauty? Check. Filmed Ocean's 8, in which she stars as the villainous Nine Ball, a natty-dread Bajan hacker boss of an all-female crew who, get this, hijacks the Met Gala? Done. In real life, RiRi will host this year's Met Gala, where she will no doubt create another unforgettable moment.
André Leon Talley, former creative director of Vogue and host of SiriusXM's Full Length, told The Glow Up: "When she wore that yellow cape, it was the best fashion moment in Met-ball history. It was Frozen come to life."
When I say she's a mastermind, no matter what she's doing, we never forget that she is building a empire in her image. This young queen has all the same body issues as the rest of us and has long sent out the decree that body-shaming is not tolerated. Remember that Gucci Mane meme illustrating the sentiment that you don't love me unless you love me as I am, hefty or skinny?
Tokenism is another bad practice that RiRi won't condone on her road to fashion-world domination. When a fan made the misguided suggestion that Fenty Beauty create a casting call for a transgender person to capture the trend in the market, RiRi's Instagram clapback was firm but fierce:
I respect all women, and whether they're trans or not is none of my business!

I don't think it's fair that a trans woman, or man, be used as a convenient marketing tool.

Too often do I see companies doing this to trans and black women alike!"
Vogue reports that Rihanna "quietly founded a nonprofit—the Clara Lionel Foundation, named after her grandparents—that focuses on education and healthcare in impoverished communities. She recently partnered with French president Emmanuel Macron on a global education initiative."
It's fitting that one of the most magnetic stars of our generation would be whisked off for Vogue to a villa in Ibiza overlooking Es Vedrà, said to be the third-most-magnetic place on earth. This place has an energy that Rihanna felt so strongly, it kicked the seemingly indestructible, indefatigable superstar flat on her back for 24 hours. But no matter what, it seems that Rihanna always gets up, fights back and wins. There have been small setbacks, like her eighth album, Anti, being panned by critics, but it still took its place in history as the only album by a female artist to surpass 2 billion streams on Apple Music.
Life has also dealt this young woman bigger blows. Surviving domestic violence is a battle that she's fought, and she continues to stand up for the dignity of its victims. Her response nearly shut down Snapchat after the social media platform posted an inappropriate game referencing the Chris Brown incident. And then there's gun violence, a pointed fear among our young people and in the black community overall. The day after Christmas 2017, Rihanna lost her 21-year-old cousin Tavon Kaiseen Alleyne when he was shot to death in her native Barbados.
On the loss of her cousin, she told Vogue:
"I really hugged my cousin the night before he died; I didn't know why. Now each time I hug somebody lately, I hug them like it's the last time. That may be my biggest life lesson, not to wait on anything, not even tomorrow," she says, pausing to gather her thoughts. "Tomorrow is too late in my opinion."
Today the world belongs to Rihanna, and the future is hers for the taking.