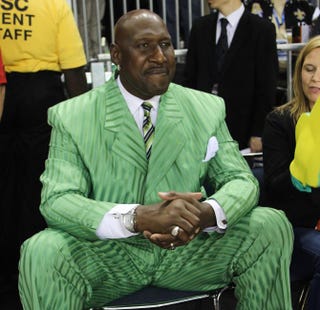 Darryl Dawkins, the former NBA player known for his monstrous backboard-breaking dunks, has died at age 58, WFMZ reports.
According to the news station, in 1975 Dawkins became the first player ever drafted to the NBA directly from high school. Affectionately nicknamed Chocolate Thunder by Stevie Wonder, the 6-foot-11-inch center played for several teams over the next 15 years, most notably the Philadelphia 76ers and the New Jersey Nets.
It's believed that the NBA moved to breakaway rims thanks to Dawkins and his backboard-shattering dunks. In two separate games in 1979, Dawkins' dunks crushed the backboard, delaying both games until they could be fixed.
WFMZ reports that after his retirement from the NBA in 1989, he continued playing basketball overseas and even had a brief stint with the Harlem Globetrotters.
"Dawkins most recently was the former head coach of the Lehigh Carbon Community College men's basketball team," the news station reports.
Read more at WFMZ.