If there's one thing that can be said about model-of-the-moment Slick Woods, it's that she doesn't hold back. The it-girl and new mom has long been transparent about her life—whether disclosing a childhood and adolescence impacted by the incarceration of her mother, Vonnya-Leah Mason, her own former addiction issues, her non-binary identity, or going into labor with son Saphir while on the runway at the inaugural Savage x Fenty show last September.
Now, the 22-year-old Woods has taken on a dramatic new challenge, a starring role in the film Goldie, which premiered at the Tribeca Film Festival Thursday night at New York City's Village East Cinema. In director Sam de Jong's sophomore film, Woods plays the titular role of Goldie, a low-income Bronx teen with dreams of getting out and taking off, but with fantastical means of getting there—including copping a canary-colored fur coat to make her hip-hop vixen dreams a reality.
As we know, fantasy rarely measures up to reality. Similarly, the plot and execution of Goldie, while punctuated by colorful animated elements by Jenny Lee and Gareth Lee, and much of Woods' signature swag, sometimes lags. That said, there are solid performances by Woods, young actresses Alanna Renee Tyler-Tompkins and Jazmyn C. Dorsey, who play the catalytic roles of Goldie's younger sisters. Comic relief from Danny Koch and George Sample III help propel the plot along. The overall effect is perhaps intentionally evocative of early Spike Lee; depending on how you feel about that, it will likely reflect your affinity for this film.
G/O Media may get a commission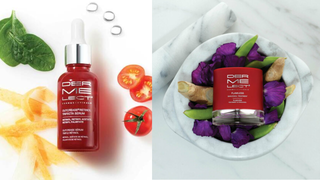 Save $19
Retinol Renewal Kit
Playing Goldie's mother, Marsha Stephanie Blake is in the unique position of creating art that imitates Woods' life; early on the film, she is incarcerated, leaving her daughters to fend for themselves. Desperation, irrational thinking and pure hustle fuel the rest of Goldie's narrative arc, which Woods admitted echoes her own while addressing the Tribeca audience.
"It's difficult reliving the most difficult periods of my life over and over," she said, keeping her remarks to a minimum. "But everything you see is real," she added. "The tears are real."
So far, Woods' own story has a much more fortuitous outcome than her alter ego's. In addition to her first starring role, an infant son and ongoing career representing some of the top brands in the game (including Fenty muse), in February, Woods was reunited with her mother after nearly two decades.
Aside from sharing the same uniquely striking looks—including that trademark tooth gap—the two have maintained remarkable closeness even from afar, with Woods championing her mother's release. Though Goldie may echo the all-too-familiar narrative of poverty, love and loss, Woods' own Cinderella story serves as a refreshing counterpoint—with a hopefully happily ever after.