The R is facing an X rating when it comes to a slew of new sex assault charges R. Kelly got hit with Thursday.

Details are scarce, but Cook County prosecutors filed 11 new felony charges against the singer, with four of the charges—aggravated criminal sexual assault—designated as Class X felonies that carry sentences of up to 30 years in prison upon conviction, the Chicago Sun-Times reports.
As the Sun-Times outlines, the new case:
charges Kelly with four counts of aggravated criminal sexual assault, two counts of criminal sexual assault by force, two counts of aggravated criminal sexual abuse, and three counts of aggravated criminal sexual abuse against a victim between the ages of 13 to 16.
Kelly is due to appear in court on the new case June 6, but it is not clear if the new charges involve people not already included in the sex abuse case he was charged with earlier this year.
G/O Media may get a commission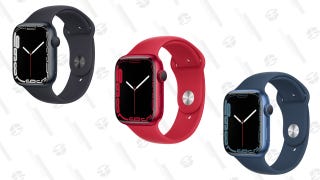 Up To $45 Off
Apple Watch Series 7
As the Chicago Tribune explains:
Three of the new counts accuse him of sexually abusing a victim between the ages of 13 and 16. It was unclear if this is a new victim or one of the four victims—three of them underage at the time—whom Kelly was charged in February with sexually abusing.

Kelly was charged at that time with 10 counts of aggravated criminal sexual abuse involving those four victims.
The charges in the February case called for maximum sentences of seven years in prison, the Sun-Times reports. Kelly is free on $1 million bail on the February indictment, to which he's pleaded not guilty.
Regarding the new charges, Kelly's attorney, Steve Greenberg, told the Sun-Times:
"We'll see what the charges are, and we'll proceed accordingly. I know this much: It's old. They're allegations from years ago."
Not so old that Kelly won't have to face the music.
Stay tuned.