Vibe magazine is dead. Just like that. No wake, no second line, no funeral. Nothing. Vibe is gone like a pocket full of singles at an Atlanta strip club. Gone, but certainly not forgotten.
I can remember the inaugural Vibe magazine cover like it was yesterday. Snoop Doggy Dogg—as he was known at the time—mean muggin' in a West Coast skully. This was 1993 and Vibe was on point like Stacy Adams, when Snoop, Dre, Suge and the West Coast were dominating the rap game, having momentarily housed the culture from its origins in New York. Vibe, the brainchild of Quincy Jones, who says he's trying to buy his magazine back, was on the pulse and set to bring a certain journalistic legitimacy to hip-hop, similar to what Down Beat had done for jazz and Rolling Stone did for rock and roll.
The Source magazine actually jumped off before Vibe, but The Source was always geared toward the true hip-hop heads, those who were interested in the music and music alone. Vibe had bigger fish to fry, thus the grease needed to be hotter.
In the early '90s, hip-hop had made the successful transition from Sedgwick and Cedar through Compton on its way to global dominance. Along the way, as the music grew more and more pervasive, its influence had started to become evident in multiple cultural arenas. Spike Lee, John Singleton and other filmmakers were bringing that hip-hop energy to cinema. Hip-hop infused comedy like that showcased on In Living Color, and HBO's Def Comedy Jam was holding court, while Will Smith was showcasing an especially decaffeinated, though highly successful version of hip-hop steez on The Fresh Prince of Bel Air. With the verbal and visual firmly locked down, the only thing missing at this point was the printed word.
Vibe always saw hip-hop as an expansive lifestyle brand, and the magazine went about promoting the culture in the broadest sense possible, documenting hip-hop's journey to the center of the pop-cultural universe. The magazine, in many ways, helped to make the argument that hip-hop was a comprehensive culture that transcended the music. Vibe featured stories on figures from the worlds of film, television, fashion, sports, politics and beyond, all from a hip-hop perspective. At its best, the magazine could, like Public Enemy, "reach the bourgeois and rock the boulevard."
G/O Media may get a commission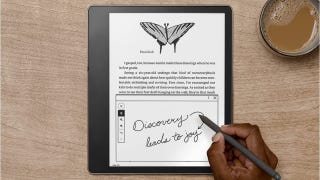 Releases November 30
Borrowing the display from the much-beloved Paperwhite, this screen provides a glare-free experience both indoors and outdoors so you can read by the pool or on the beach on a sunny day. New to this model is the inclusion of a pen. Take notes directly on the pages as you might in a traditional book, but the notes are automatically organized by title in a single place–letting you review and export them with ease.
To this end, the magazine found itself first reporting on and then being firmly mired in one of the biggest stories in the history of hip-hop, the East Coast/West Coast beef that would eventually claim the lives of the culture's two most celebrated figures, Biggie Smalls and Tupac Shakur. There was the Kevin Powell cover story where 'Pac famously, though prematurely said "thug life is dead;" another red-tinged cover touting "The New and Untouchable Death Row Records" and the classic photo of B.I.G. posed as the "rap Alfred Hitchcock," among other such prose and portraits during hip-hop's most tumultuous era. Many at the time accused Vibe of fanning the flames of this unfortunate rivalry. Some even suggested that Vibe had blood on its hands after the two murders went down.
For those who never took to the shiny suits and the advent of bling culture, Vibe probably began to lose its luster a long time ago. The magazine began to be played out around the same time that the music industry started to take a dip and the point at which the Internet began stealing the thunder of all those monthly publications that couldn't supply information fast enough in the new 24/7 news cycle.
I must admit that I have only been a periodic reader of late myself. Perhaps that says more about me than it does about Vibe, but the reality is that covering hip-hop now is not nearly as interesting as it was back in those heady days of the notorious '90s. Souljah Boy and T-Pain just ain't as compelling as Ol' Dirty Bastard and Bushwick Bill, sorry.
I'm sure there are many who couldn't stand Vibe, who thought it was too glossy, too mainstream, too interested in mass appeal. Fair enough. However as much as one may want to hate on Vibe, the magazine's permanent place in the long history of the culture cannot be denied. For me, hip-hop had reached such a point of cultural saturation in the '90s that it needed a place like Vibe that would represent this ubiquity in its proper light. In some ways, Vibe is to hip-hop journalism what The Arsenio Hall Show was to late-night television. When Arsenio was on the air, many people hated on the show, but when it was no longer available, people came to realize that something was indeed missing.
Vibe leaves a large footprint. Hip-hop culture is everywhere now, from the most commercial to the deepest underground. In spite of rumors to the contrary, hip-hop ain't goin' nowhere. We've been here too long to leave now. Hip-hop may not be as groundbreaking and as poignant as it was back in the day, but the culture is in its third decade. To expect that it would be as energetic today as it was while establishing itself is to miss the point. Culture is cyclical. It ebbs, and it flows. Vibe was a major participant in this ebb and flow.
Vibe magazine may be gone now in its traditional paper and ink form, but again it is most certainly not forgotten. Pour out a lil' liquor in its honor next time you take it to the head. R.I.P., Vibe, 'til they reminisce over you!
Todd Boyd is the Katherine and Frank Price Endowed Chair for the Study of Race and Popular Culture in the USC School of Cinematic Arts. He blogs as The Notorious PhD
Also:  GALLERY—Losing the Vibe