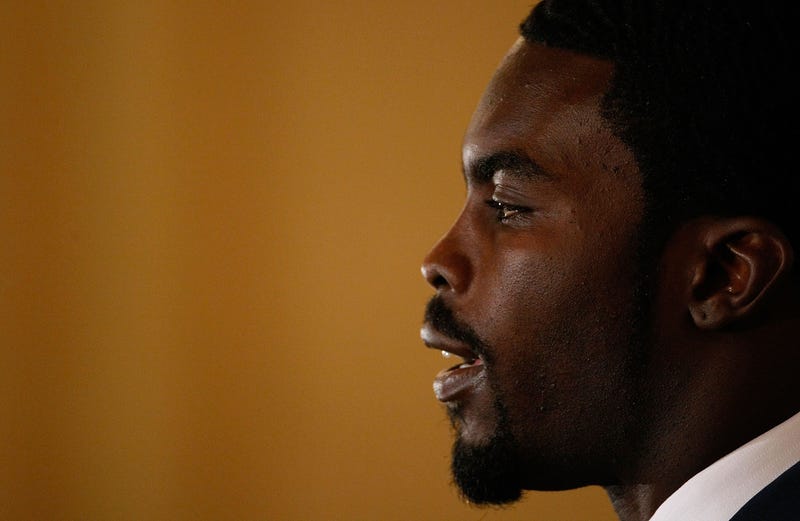 It's the middle of spring, the nadir of the off-season for football junkies, yet all over New York City, if not all across the nation, Jets fans are laughing derisively at the Minnesota Vikings. Some even giggle at the mere sight of purple, the Vikes' trademark team color.
The reason is simple. The Brett Favre saga continues, and this time it looks like the Vikings may be the legendary quarterback's next victims. Favre owns many NFL passing records, and he will certainly be inducted into the Hall of Fame in his first year of eligibility, but he is building on a dubious mark, the most tedious goodbye in sports history. At the same time, the NFL is getting ready to welcome back its most recent parolee, former Atlanta Falcons QB Michael Vick, who, in my opinion, should find another line of work.
Favre considered retiring after several recent seasons with the Green Bay Packers. Then last winter, he called it quits in a teary news conference. Yet as the season approached, he decided he wanted to play again, and since he was still under contract with the Packers, Favre made a media circus at their training camp (even requesting a trade to their archrival Vikings), before he was dealt to the New York Jets.
Favre spent a season with the Jets and retired again. Then they released him from his contract and drafted USC's Mark Sanchez to be their quarterback. It looked like Favre's future was reduced to being a pitchman for Wrangler Jeans. Nope. Favre spent part of the week working out in Mississippi, and the Vikings are studying Favre's medical reports.
If this was all there was to the story, then Favre is simply another man who doesn't know when to say when; nothing unusual there. However, this is why Jets fans everywhere are smiling: Last season was ample demonstration that Favre's time is up.
Favre led the Jets into playoff contention last season, a major rebound from their 4-12 season in 2007, and while a revived defense, a repaired offensive line and new running back Thomas Jones had something to do with the Jets' surge, Favre, who was 39, played solid football. His passing and his leadership were important parts of the Jets surge. Then, it all fell apart. The defense stayed strong, the running attack didn't wane, but Favre, seemingly the most reliable part of the Jets' revival, faltered. The Jets, who started the season a robust 8-3, lost four of their final five games and fell out of the playoff picture on the season's final Sunday. During those five games, Favre threw two touchdown passes and nine interceptions, which suggests that his old gunslinger's mentality hadn't faltered, but the slinger itself had. His quarterback rating was 61 or less in each of those games. A rating of 61 for two games would have gotten a less revered QB benched.
The Vikings' interest in Favre reflects their impatience with their QB Tarvaris Jackson. Jackson can be shaky at times. He throws off the wrong foot too often, and he can be inaccurate. The Vikings feel that their defense is Super Bowl caliber, and they have a great running back, Adrian Peterson, entering his prime. The general belief is that what separates them from a serious Super Bowl push is a top-flight quarterback. Yet this pursuit of Brett Favre won't solve their problem. Compare Favre's QB rating over those final five games (61) to Jackson's final five starts with the Vikings: Jackson had a rating of 95.4, with nine touchdown passes and two interceptions—a nifty opposite of Favre's production with the Jets.
There is an attractive motivational angle to the story about Favre wanting revenge on the Packers by going to the division archrivals. Yet there's more to performance than motivation; athletic ability tends to decline for everyone in their 30s. NFL quarterbacks are no exception to this rule. Favre at 33 was better than Jackson is today, but Favre at 40 won't be. And worse, there's an issue about the health of the future Hall of Famer's shoulder, which may require surgery. Even without the medical issues hanging in the balance, the Vikings would be better to be patient with Jackson, than playing for the headlines and drama that come with bringing Favre to the Twin Cities.
Headlines and drama will follow Michael Vick when he returns to the NFL later this off-season. Next month, Vick will complete his sentence for his role in an illegal dog-fighting circuit, and both he and his lawyers say a return to the NFL is in the works for the highly regarded quarterback. His former team, the Atlanta Falcons, will have no interest in Vick as they have Matt Ryan, who won Offensive Rookie of the Year in 2008, so Vick will be on the market.          
The big knock on Vick shouldn't be his sordid off-field activities of years past. (I don't get the thrill in seeing animals maul one another to death.) He's done his time for that, and NFL teams shouldn't base their personnel decisions on what PETA thinks. But there's a bigger concern, Vick wasn't a good quarterback when he left the game and isn't likely to be better now. Although Vick's open-field runs were a staple of football highlight clips, his accuracy and leadership left a bit to be desired. In four full seasons as the Falcons QB, Vick compiled a quarterback rating over 80 only once, in 2002, and only once did his touchdown to interception ratio approach 1.5 to 1 (a barely acceptable rate).
Since Vick is—or at least was—a dynamic open-field runner, some team with creative offensive designs should sign Vick to return kicks and function as the QB or WR in Wildcat formations. This would make the best use of his athleticism.
Favre needs to know that it's time to call it quits. Vick still has skills, but they would be better deployed in a position other than quarterback.
Martin Johnson is a regular contributor to The Root.
Martin Johnson writes about music for the Wall Street Journal, basketball for Slate and beer for Eater, and he blogs at both the Joy of Cheese and Rotations. Follow him on Twitter.