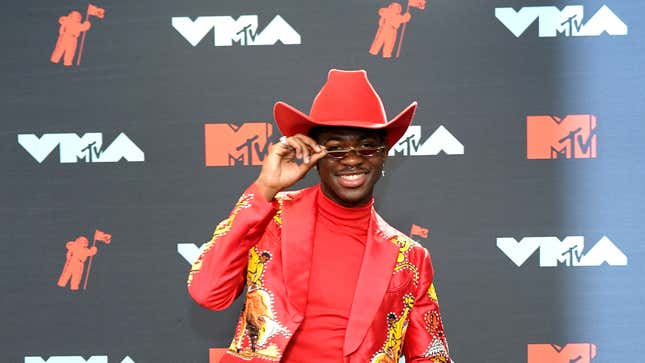 Hey, Lil Nas X, I know "can't nobody tell [you] nothin'," but allow us to give you a hearty "congratulations!"

The Country Music Association (CMA) has officially nominated Lil Nas X for a 2019 CMA Award. The song in question? Why it's Lil Nas X's "Old Town Road (Remix)" featuring Billy Ray Cyrus, of course! The dynamic duo were nominated under the "Musical Event of the Year" category.

The 20-year-old new country star recently took to Twitter to express his gratitude when the CMA officially announced the good news on their social media account.
Though I'm happy, here is where I side-eye: the song was noticeably snubbed for "Single of the Year" and "Song of the Year." Hell, given the controversy surrounding the song, I turned to Google to make sure "Musical Event of the Year" wasn't some consolation prize category the association simply made up for this year.
As it turns out, it is a standard category; "Everything's Gonna Be Alright" by Kenny Chesney and David Lee Murphy won the award in 2018.

Okay. Well, all I know is that Lil Nas X and Cyrus better walk away with a trophy that night because their song was undoubtedly the musical event of the year. No contest.

For the full list of 2019 CMA Awards nominations, head to Billboard.com. The 53rd Annual CMA Awards ceremony will air Wednesday, November 13 at 8 p.m. ET on ABC.