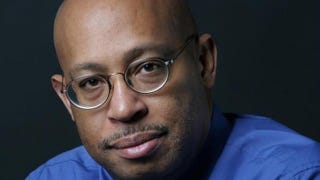 Celebrated Washington Post photojournalist Michel du Cille died Thursday in Liberia while on assignment at the age of 58, the Washington Post reports.
Du Cille, who won the Pulitzer Prize three times for his photographic chronicles of human life, struggle and triumph, was most recently photographing Ebola patients, the Post notes. 
According to the Post, he collapsed, apparently of a heart attack, while walking back from a village in Liberia's Bong County, where he had been working on a project. He was declared dead on arrival at a hospital two hours away. 
"Michel had returned to Liberia on Tuesday after a four-week break that included showing his photographs at the Addis Foto Fest in Ethi­o­pia," Post Executive Editor Martin Baron said in a statement to staff. "We are all heartbroken. We have lost a beloved colleague and one of the world's most accomplished photographers." 
Du Cille was with the Miami Herald in the 1980s when he won his first two Pulitzers for photography. Later, upon joining the Post in 1988, he shared his third, for public service, with two other Post reporters.
Originally from Jamaica, before his family moved to Georgia in the 1970s, du Cille demonstrated a passion for photography and journalism at a young age, working at the Gainesville Times in Georgia at 16 while still a high school student, the Post notes.
Du Cille is survived by his wife, Post photographer Nikki Kahn, and two children from his first marriage, Leighton du Cille and Lesley Anne du Cille.
Read the full obituary at the Washington Post.