Anybody who grew up in a black household knows that grades reign supreme. You cannot come into your parents' (or grandparents', or auntie's or whomever's) house with no fool-ass grades. That is not how the program works. It seems that one kid, named Thomas, is being freshly indoctrinated into the culture, and his dad is a savage with it.
The unidentified black-dad-personified started garnering social media attention during the Cleveland Cavaliers-Charlotte Hornets game Friday night after he held up a sign that read: "Thomas get your grades back up and next time you'll be here. Love, Dad." The sign was complete with a teary-eyed emoji and the Cavs' logo.
Savage Dad was all smiles as he held up the sign decked out in his red. Poor Thomas. But he wasn't getting any sympathy from those on social media as his dad's image and sign went viral. CBS notes that USA Today Sports Images photographer Jeremy Brevard first captured the photo, and that post went viral after ESPN shared it on Instagram.
Dad was being called father of the year for his antics, and social media users also called on Thomas to get his grades up, encouraging the child to do his best.
G/O Media may get a commission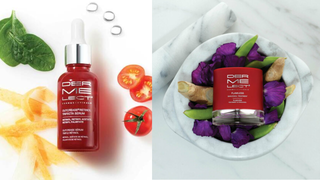 Save $19
Retinol Renewal Kit
Of course, there are going to be those who don't agree with Dad's method, and they accused him of embarrassing his son instead of trying to help him raise his grades.
But like most dads, this one either didn't notice the social media flak or just didn't care. He reportedly made a second appearance at the Houston Rockets-Oklahoma City Thunder game on Sunday, holding a brand-new sign.
Thomas gon' learn today.
What do you all think? Is Dad taking it too far, or is this just the lesson Thomas needs?