Two current and two former Boynton Beach, Fla., police officers are facing federal civil rights indictments related to a 2014 incident during which they beat a 26-year-old black man and lied about it in their official reports.
The confrontation, which occurred after a police chase, was captured on video shot from a Palm Beach County Sheriff's Office helicopter, according to the Palm Beach Post.
On Friday, Officer Mike Brown, Sgt. Philip Antico, and former Officers Ron Ryan and Justin Harris all pleaded not guilty before U.S. Magistrate Judge William Matthewman. The four of them are charged with falsification of records, while Brown, Harris and Ryan face the additional charge of deprivation of rights under color of law. Antico, who was the supervising officer that night, is also charged with obstruction of justice.
Harris, Ryan and Brown all face 30 years in prison, while Antico faces 40 years.
"It's a very sad day for law enforcement if these allegations are true," Matthewman said to the court.
G/O Media may get a commission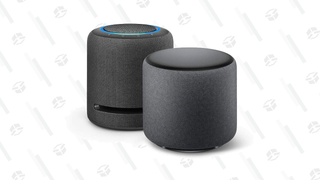 25% off - Prime Exclusive
Echo Studio + Echo Sub Bundle
At a news conference, Boynton Beach Police Chief Jeffrey Katz said that the overwhelming majority of the time, police officers "get it right."
"I realize that today's announcements will inspire strong emotions for those of us within the department, those of us who love our community and any of us who love any party involved in this incident, whether in 2014 or today," Katz said. "We will not let this incident of several years ago define us."
From the Post:
On Aug. 20, 2014, Byron Harris, then 26, led city police on a chase, at speeds of up to 100 mph. During the pursuit, a car struck Officer Jeffrey Williams as he placed stop sticks. Police have said they believe it was Byron Harris' car. Williams later said a police car involved in the chase struck him.

As the chase unfolded, pursuing officers feared Williams had been killed.

Police have said the chase started when officers saw Harris run a stop sign, and after they followed him, saw Harris drop a bag of white powder out of the car and speed off.

The chase continued on Interstate 95 to West Palm Beach and then back to Lake Worth.

When Harris finally stopped, at least seven officers swarmed his car, including Brown, Ryan and Justin Harris. Officers beat and used a Taser on Byron Harris and passengers Jeffrey Braswell, then 25, and Ashley Hill, then 18.

A Palm Beach County Sheriff's helicopter crew helping with the chase captured the encounter on infrared video. The camera zoomed in to see officers surrounding Harris' stopped car at gunpoint, then rushing in to pull Harris' two passengers out and begin kicking them.
In court on Friday, Assistant U.S. Attorney Susan Rhee Osborne told Judge Matthewman that federal investigators may be charging additional officers in the incident.
Read more at the Palm Beach Post.