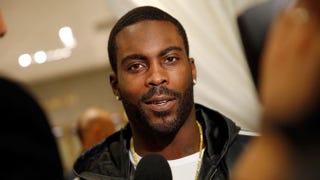 The New York Jets are realizing that their newly acquired quarterback comes with more baggage than they may have bargained for. With training camps not even under way, students at SUNY Cortland's campus, where the Jets hold practice, don't want Michael Vick there and have started a petition to get him banned. The petition, which currently has more than 1,500 signatures and is hosted on the website Change.org, is addressed to Erik J. Bitterbaum, the school's president, New York's Daily News reports.   
Vick served 19 months in prison after he pleaded guilty to a federal dogfighting-conspiracy charge in 2007, the Daily News reports.
A picture of Vick in a Falcons uniform—the team he played for when he was charged—standing next to a photo of a mutilated dog is on the petition Web page.
"If we welcome Vick onto our campus, we are complicit in his crimes," the petition reads. "We are sending the message that, for money and publicity, we will turn a blind eye to the horrors of dogfighting."
SUNY Cortland did not immediately respond to the Daily News request for comment.
Read more at the Daily News.