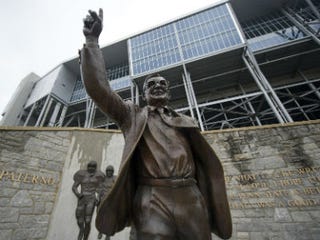 Updated Monday, July 23, at 9:20 a.m. EDT: In response to the Jerry Sandusky scandal, the NCAA today fined Penn State University $60 million, banned the football program from postseason bowls for the next four years and vacated all team wins since 1998.
According to a statement released by the NCAA, the $60 million must "be paid into an endowment for external programs preventing child sexual abuse or assisting victims and may not be used to fund such programs at the university."
Earlier:
As a final reminder of the wreckage left behind by the Penn State sexual-abuse scandal, officials have removed a statue of former head coach Joe Paterno. The figure, which stood outside the university's famed Beaver Stadium, has been moved to a secure place after the sexual-assault conviction of former assistant Jerry Sandusky just weeks ago, reports CNN. 
While the school's football program will not face the so-called "death penalty" that would have prevented the team from playing in the fall, the school might have preferred a one-year suspension because of the severity of the scholarship losses, postseason sanctions and other penalties, the source said …

In State College, Pennsylvania, the 900-pound bronze statue of Paterno was removed. Penn State President Rodney Erickson said in a statement the statue is being stored in a "secure location" …

However, Paterno's family said they believe taking down the statue serves no purpose.

"Tearing down the statue of Joe Paterno does not serve the victims of Jerry Sandusky's horrible crimes or help heal the Penn State community. We believe the only way to help the victims is to uncover the full truth," the family said in a statement.
Read more at CNN.