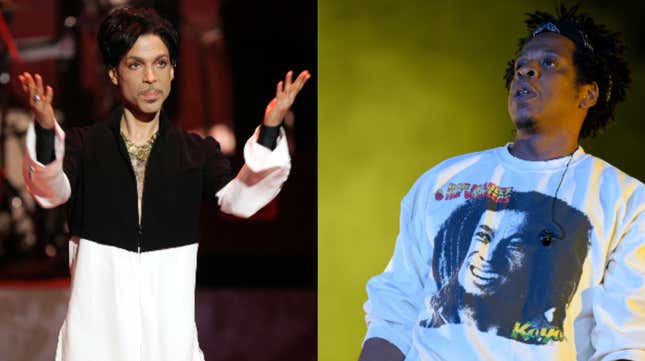 Prince not only colored the world with his own music, he also contributed to the music of other iconic artists. And, as we all know, that color was purple.

My Hip-Hop Story: Cedric The Entertainer On Jay-Z and His Indisputable Role In Shaping The Genre's Culture
As we continue to celebrate his legacy, Tidal has announced their special line of events to honor the late musician and his posthumous album, released by his estate.
Per an official press release:
Continuing a partnership that started in 2015, global music and entertainment streaming platform, TIDAL, is announcing a series of listening events across the globe for members to experience Prince's new album, Originals. Pulled directly from the historic archive of Prince's music, the 15-track album features 14 previously unreleased recordings that highlight the impact Prince had on modern music and the formation of many artists' careers. The tracks were selected collaboratively by JAY-Z and Troy Carter, on behalf of The Prince Estate. Starting today, fans can pre-save "Originals" in order to have the album added to the "My Collection" section in-app, on desktop and via web player following the album release. Users will be notified once the album is live.

Album release celebrations will take place in countries such as the United States, Spain, Poland, Brazil and more across the globe to celebrate the highly anticipated album. In the US, TIDAL members will have the chance to attend an album release celebration in Los Angeles hosted by JAY-Z on June 6th.
The 15 tracks will feature celebrated works by Sheila E., Vanity, The Time and more.
"Prince led the way, for artistic freedom, for ownership. He's one of the bravest people I can think of in the industry. He trusted us, not just me, but Tidal, to continue his fight," Jay-Z said, via press release. "Trying to help further that legacy through his music is both an honor we couldn't pass up as an organization dedicated to empowering artists. This gives his true fans that [peek] behind the curtain."

"After one meeting, it was obvious that Jay Z and the team he has assembled at Tidal recognize and applaud the effort that real musicians put in2 their craft 2 achieve the very best they can at this pivotal time in the music industry," Prince stated in 2015, when he released HITNRUN Phase One on Tidal. "Secondly, Tidal ha[s] honored Us with a non-restrictive arrangement that once again allows Us to continue making art in the fashion We've grown accustomed 2, and We're Extremely grateful 4 their generous support."
Prince died on April 21, 2016. He was 57 years old.
Originals will debut on Tidal June 7, where it will stream exclusively until June 20, before being released wide for physical copy purchase on June 21, according to Rolling Stone.