While everyone is dressing up, passing out candy, and taking their children out trick-or-treating in celebration of Halloween, there is another holiday that we cannot neglect to mention.
Today is the 18th anniversary of the release of Outkast's fourth studio album, Stankonia.
For the uninitiated, Stankonia is the album that gave us such hits as "B.O.B," "Ms. Jackson," and "So Fresh, So Clean."
"B.O.B" was the lead single released from the album, and the lyrics plus the video had me so hype and ready for a new Outkast album when it came out. The fast-paced drum and bass banging beat, the rapid-fire way 3 Stacks and Big Boi deliver their lyrics, and the refrain in the chorus ("Don't pull that thang out, unless you plan to bang") made it an instant classic in my book.
What came after was hip-hop magic. The album won a Grammy in 2002 for Best Rap Album. The duo also won Best Rap Performance By a Duo or Group for "Ms. Jackson."
"So Fresh, So Clean" is one of the smoothest hip-hop joints around. You can't help but want to hit your pimp glide or diddy bop when that song comes on. And here again, they delivered us another dope chorus to sing along to as well.
Another notable point about Stankonia is the fact that the duo worked with a then-unknown Atlanta rapper by the name of Killer Mike. He appeared on "Snappin' & Trappin'."
G/O Media may get a commission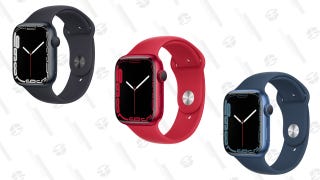 Up To $45 Off
Apple Watch Series 7
Stankonia was certified quadruple platinum in 2003. In 2006, it was named one of the best 100 albums of all time by Time magazine.
Basically, your faves could never. They probably never will.
What are your favorite tracks on Stankonia? Let's argue in the comments.