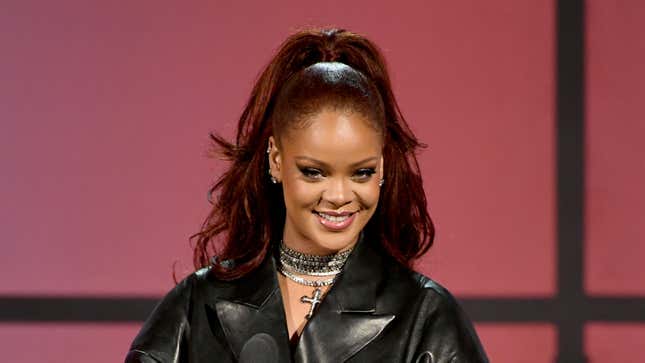 We've expressed this sentiment more than once, but it needs to be repeated: Rihanna has successfully executed the best troll in modern music.
Tackling A Black Maternal Health Crisis & Embracing Reproductive Justice | The Root Institute
The once-upon-a-time artist and now beauty and fashion mogul decided to announce she was debuting her much-anticipated new album in 2019 and proceeded to heighten her fans' anxiety to astronomical levels while she continued to dominate via her various business ventures and give some boo-lovin' to a billionaire in her spare time.

During that time, though, Rih had a little fun with us and dropped little hints here and there regarding the album's progression. In fact, so did Pharrell Williams, who is reportedly adding some of his production expertise to the project.

However, it looks like we're really getting somewhere now! According to The Daily Mail, the 31-year-old artist officially registered a song titled "Private Loving" with her publisher, BMI. A Rihanna fan Twitter account posted a screenshot of the registration on Saturday.
OK. Alright. Breathe. The following reaction feels apropos:
Jamaican dancehall/reggae artist Demarco reportedly wrote "Private Loving." As Rihanna confirmed back in May, this entire new album—lovingly titled R9 by fans—will, in fact, have a reggae feel.
At the time of this article's posting, we have 134 days left until 2020. That is over 3,200 hours that Rih has available to continue to troll us because she gave herself a very wide window to stay true to her word. Mark my words, she's either going to randomly drop it on an obscure day (like, "Here, damn!") or on New Year's Eve at about 11:58 p.m. Eastern Standard Time.

Either way, we'll be waiting…