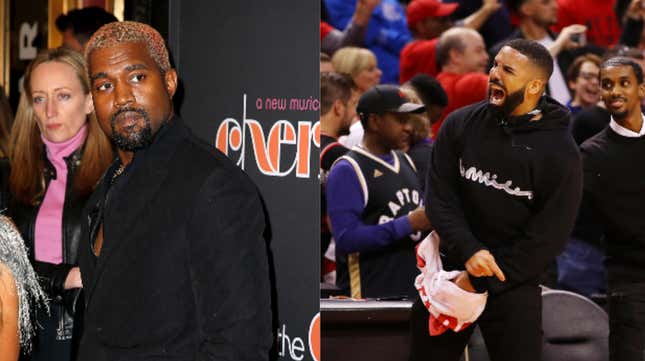 What's in a name? Well, when it comes to Drake, it probably doesn't matter to Kanye, because he can't say it.

Courtney B. Vance in Heist 88 Is Our Black TV Pick of the Week
Mr. West is set to appear on David Letterman's intriguing series, My Next Guest Needs No Introduction With David Letterman when the 2nd season drops on Netflix on May 31. With Letterman's expert skills, Kanye is expected to talk about a range of things, including his mother, his body image, his peculiar and problematic relationship with President Cottage Cheese Whiz, his music, and even ... his erratic beef with Drake.
Reports Pitchfork:
After prefacing an anecdote by referencing "an artist which I will not mention because I'm not allowed to mention him or any of his family members," Dave interrupted Kanye to call that description "fairly provocative." Kanye explained, "Well, we had a little beef last year." He then quoted a favorite line from "Crew Love."
If you remember correctly, 2018 was filled with a bunch of Kanye Twitter rants about the Scorpion artist's feature on Travis Scott's song. And the year ended with the reemergence of the "beef" once 'Ye realized Drake was following his wife, Kim Kardashian West on Instagram during said "beef." Yes, this is a thing that happened.
Granted, Drake is probably too busy adjusting in his new role as the Toronto Raptors' Deputy Hype Beige Rage Coach to really care if Kanye utters his name or not.
But if Kanye were to, say, let bygones be bygones, text his old chum and offer congratulations, here's how it'll go down:
Kanye: So, look. Y'all the North and I got a daughter named North, so really, we the North.

Drake: STRAIIIIGHT!!!!
And then, Kanye will randomly post the text screenshot on Twitter with absolutely no context. Fin.