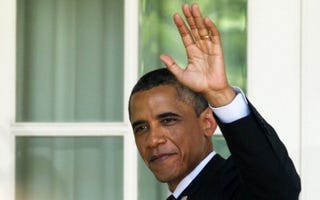 THE WHITE HOUSE
Office of the Press Secretary
FOR IMMEDIATE RELEASE

DAILY GUIDANCE AND PRESS SCHEDULE FOR
MONDAY, MAY 7, 2012

In the morning, the President will receive the Presidential Daily Briefing and meet with senior advisors in the Oval Office. These meetings are closed press.

In the afternoon, the President will hold a conference call with elected officials and student government leaders from across the country to discuss the need to prevent rates from doubling on July 1. This call is closed press.

Like The Root on Facebook. Follow us on Twitter.