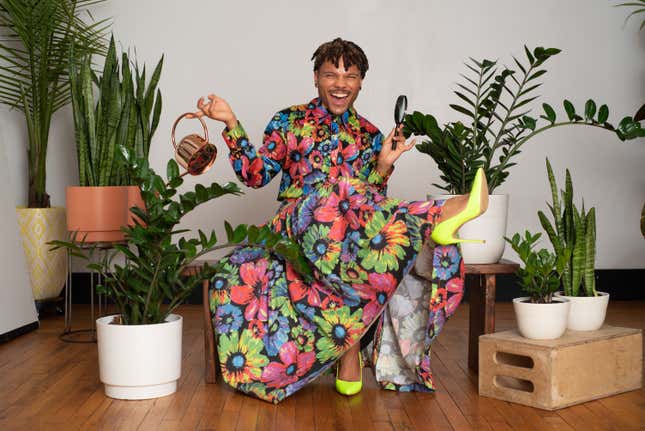 Even if you don't have plants of your own, it's hard not to love the Plant Kween Instagram account. Plant influencer and educator, Christopher Griffin started it in 2016 to share the joys that come along with being a plant parent along with lessons for caring for your ficus and ferns.

AVEC's Premium Cocktail Mixer Is Our Swag Of The Week
And whether it's their colorfully coordinated lewks, their infectious smile, or the way they affectionately refer to their plants as "green gurls," it's easy to see that this Brooklyn-based gardener has a love of plants that comes through in every post.
Now Plant Kween has partnered with 1-800-Flowers.com to curate amazing plant picks and care tips perfect for customers looking to begin their plant parenting journey or add some new greenery to their growing plant family.
G/O Media may get a commission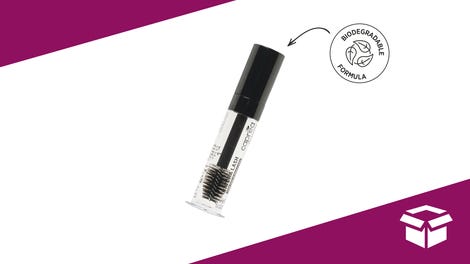 It's $8
20% Off Lash + Eyebrow Serum 2.0 - Caprea Beauty
The Plant Kween for 1-800-Flowers.com® collection is a lush assortment of 15 on-trend green plants and colorful, elegant orchids that are available for delivery nationwide.
The 1-800-Flowers.com® - Plant Kween Succulent Garden is an on-demand experience that helps customers learn new tips for creating and caring for a succulent garden. The plant kit comes with five succulents, a terra cotta planter and eco-friendly coconut coir soil mix. Customers will also have access to on-demand content available on Petal Talk™, including an exclusive Q&A with Christopher that features lessons in plant care, how-to's and more. Plant lovers are also encouraged to connect with 1-800-Flowers.com and Plant Kween on Instagram and TikTok for additional content.
We caught up with Christopher Griffin (aka Plant Kween) to learn more about this new plant partnership and snuck in a few questions about ways to make our gardens grow.
According to Griffin, the collaboration with 1-800-Flowers.com was a natural fit.
"I often ordered my mother flowers and bouquets from 1-800-Flowers.com, and she was in love with [them] when they arrived at her doorstep. While she is no longer on this earth, I know she would have loved to see this collaboration," Griffin said. "The Plant Kween for 1-800-Flowers.com® collection is in her memory and her love of florals and lushness that she passed onto me."
When curating the collection, Griffin wanted to make sure the "green gurls" they chose would work for all customers – even those who don't have a green thumb. "It was important that the assortment include a variety of offerings for both novice and experienced plant lovers, as well as plants that can work in any space," Griffin said.
If you don't already have plants in your home, they can be a great way to add color to your space and bring some of the outside in. And, as Griffin points out, plants have amazing benefits for your overall health and wellbeing.
"Houseplants are nature's indoor air purifiers, taking in the carbon dioxide we breathe out and producing oxygen. Many houseplants also remove toxins from the air, increase humidity, and reduce airborne dust levels. All these things are great for our bodies!" Griffin said.
"Houseplants can also reduce stress and positively impact one's mental health, mood, and creativity!" Griffin adds. "In moments when I am feeling stressed or anxious, I tend to turn to my green gurls. Whether I'm pruning them, dusting off their leaves, watering them, or checking for any new leafy growth, they allow me a space to quiet my mind and calm my anxiety."
Once you've got your garden going, you've gotta take care of your green gurls. And Griffin says one of the biggest mistakes plant parents make is overwatering, which can destroy the plant's root system.

"A plant has a greater chance of surviving being underwatered than overwatered. So, this kween has had to learn to pay closer attention to the needs of her green gurls, allowing them to "tell me" what they need ... and they are a vocal bunch!"
According to Griffin, most houseplants only need to be watered bout every 7-10 days in warmer months or every 14 days in the colder months. But they say that watering schedules can vary based on the plant type, the kind of pot you have them in, the soil mixture recipe, and even the time spent in the sun and humidity levels in a given week.
---
We got Plant Kween to share some of their favorite easy-to-care-for plant varieties that are perfect for someone just beginning their plant parent journey:
The Marble Queen Pothos (aka Epipremnum aureum), is a tropical kween that is near and dear to my heart and was my first green gurl. These climbing vines enjoy bright ambient light but can survive in lower light conditions as well. I recommend watering this kween once a week during warmer months and every two weeks during colder months.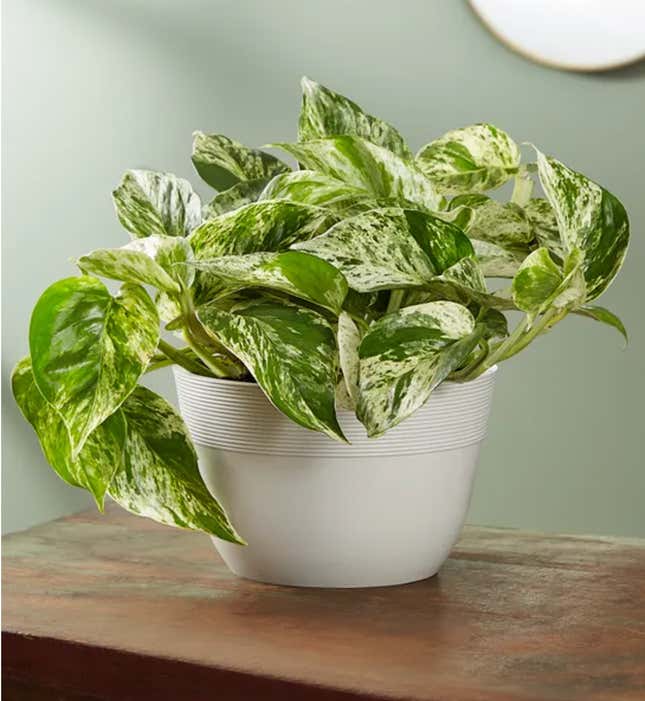 The ZZ Plant (aka Zamioculcas zamiifolia) is native to eastern Africa. This kweens' hearty leaves are jam-packed with chlorophyll which makes them very light flexible, so they thrive in brighter light conditions but are also tolerant of lower light conditions. This green gurl does well during droughts and in the houses of plant parents on the go, who occasionally forget to water their green gurl.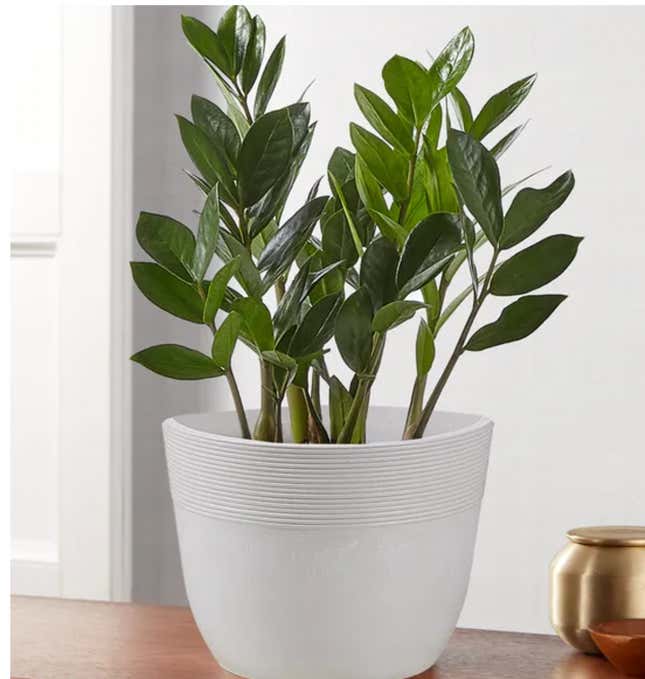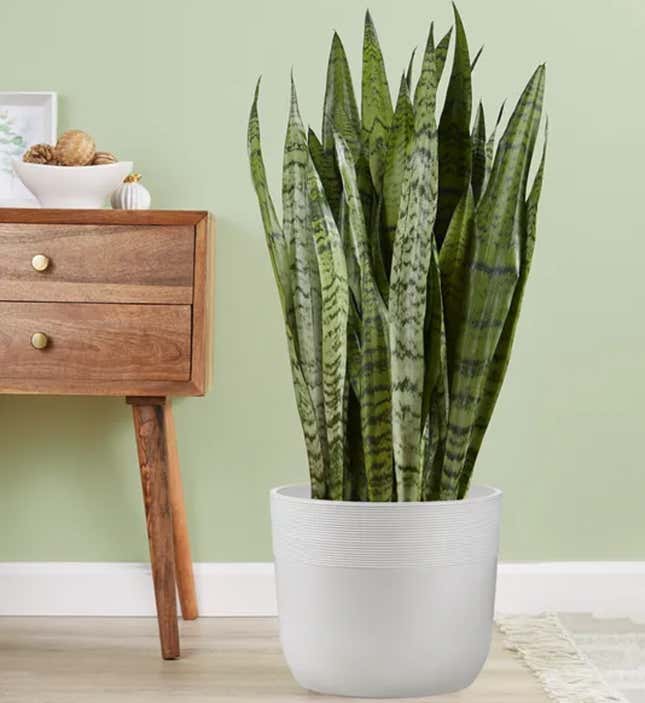 With over seventy fabulous varieties, the Snake Plant (aka Dracaena trifasciata), has easily become one of my favorite green gurls! These extremely resilient, adaptable, and easy-to-care-for kweens can grow anywhere from eight inches to 12 feet high in their natural habitat. While these kweens can be quite adaptable to a myriad of lighting situations, I find that they thrive in bright, ambient light with some direct sun. You don't have to water this plant often. I recommend giving this kween a drink every two weeks in the warmer months and every three-to-four weeks during the colder months.