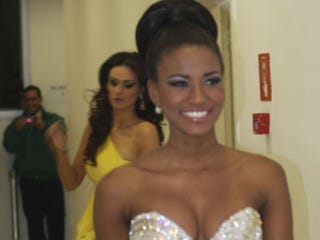 At the Miss Universe pageant Monday, Lelia Lopes of Angola (check out the Washington Post's primer on her home) beat out 89 other beauty queens from around the world to win the crown. She is the first contestant from the African country to do so.
Angola is marked by extreme poverty, despite its rich reservoirs of oil. The 25-year-old told reporters that she planned to continue doing "everything that my country needs," including work with poor children and elderly and continuing the "fight against HIV."
Lopes, a business-management student studying in Great Britain, also reflected on being one of the few black winners of the Miss Universe pageant: "Any racist needs to seek help," she said. "It's not normal in the 21st century to think in that way."
Remember Satoshi Kanazawa, the professor who distorted facts to make a "scientific" claim that black women were less attractive? We'd love it if the new Miss Universe could have a word with him at some point during her reign.
Read more at Uptown magazine and the Washington Post.
In other news: Supreme Court to Take on Jail Strip Searches.