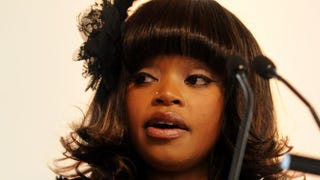 It is safe to say that Nelson Mandela's granddaughter, Zoleka Mandela, didn't have a normal childhood.
"By the time I was born, on 9 April 1980, my mother (Zindzi Mandela) knew how to strip and assemble an AK-47 in exactly thirty-eight seconds. She was twenty years old, trained in guerrilla warfare and already a full-fledged member of Umkhonto we Sizwe (the armed wing of the African National Congress)," she writes in her new book, When Hope Whispers.
Before Zoleka was a year old, her grandmother, Winnie Madikizela-Mandela, had already smuggled her into Robben Island prison to see her grandfather. Zoleka's grandmother once hid a hand grenade in her book bag during a police search. While police did not find the explosive, Zoleka still looked on as her grandmother was arrested, the Associated Press reports.
The 33-year-old pulls no punches in her tell-all, which recounts her family's involvement in the fight against South Africa's white minority regime, her struggles with alcohol and drug addiction, the loss of two of her children and her fight against breast cancer, AP reports.
The book's publication comes as Nelson Mandela, 95, remains under intensive medical care at his Johannesburg home, after being discharged in September from a lengthy hospitalization. Currently the freedom fighter is in critical but stable condition.
"There's a social responsibility I can't run away from, and instead I feel I embrace it," Zoleka told the Associated Press about being a Mandela. "One of the things I learned so much about my grandparents is that you always have the power in you to make a difference in somebody else's life despite your own challenges, and I think that's what I'm trying to do."
Zoleka said she hopes to inspire addicts looking for hope, women going through chemotherapy and parents struggling with the loss of their children, AP reports.
Read more at the Associated Press.