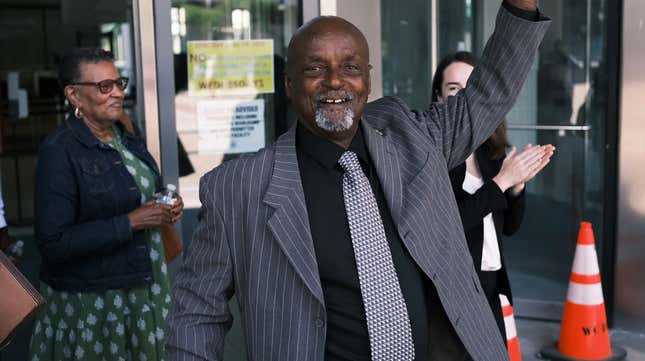 It's been nearly two years since I did a deep analysis of the exoneration of Black people in this country. Although I haven't written about it as much since it's still a prominent occurrence for Black men in the country to be exonerated from prison because they were wrongfully convicted.
Tackling A Black Maternal Health Crisis & Embracing Reproductive Justice | The Root Institute
Whether that's due to racial bias, false forensic evidence, a false confession, mistaken witness identification (the leading cause), perjury, or inadequate legal defense, Black men have long been the main target for wrongful convictions.
So far in 2023, there have been a total of 74 exonerations, 45 of the exonerees have been Black (more than any other demographic), and 21 have been exonerated due to mistaken witness identification, according to data from the National Registry of Exonerations.
On Tuesday, another Black man was added to the list.
Almost 47 years after he was convicted of rape, 72-year-old Leonard Mack has been exonerated after DNA testing proved he was not the suspect and the true perpetrator, a registered sex offender, confessed to the crime.
According to the Westchester County District Attorney's Office, Mack spent seven years in a New York Prison after he was found guilty of raping a local high school student in Greenburgh, N.Y. A year ago, the Innocence Project requested that there be a review of Mack's claim of innocence.
Their investigation revealed that eyewitness identifications at the time were "problematic" and corrupted by indecent procedures by the local police department.
More from the Innocence Project:
This case contains virtually every common contributing factor in wrongful convictions. Eyewitness misidentification, the leading cause of wrongful convictions, played a central role, in addition to misleading forensic testimony presented by the State's forensic analyst at trial, racial bias, and tunnel vision. Despite alibi witnesses and serological evidence from the victim's underwear that excluded Mr. Mack in 1976, he spent seven-and-a-half years in prison and has since lived with this wrongful conviction for 41 years.
In my 2021 story on exonerations, Barbara O'Brien, a professor at Michigan State University College of Law and editor of the National Registry of Exonerations, pointed out that humans are terrible at eyewitness identification and in particular, cross-racial identification.

To no surprise, that was also the case with Mack and thankfully they were able to prove that he was not the man responsible and found the man who was.