In the latest site of conflict around free—or what some might deem hate— speech, a high school in North Carolina recalled its yearbooks because a student used "Build That Wall" as her senior quote.

The News & Observer reports that graduating students at Richmond Early College High School in Hamlet were allowed to share a quote under their picture in the yearbook. One lovely young woman decided to use President Donald Trump's words, which the school found inappropriate.
Richmond County Schools released the following explanation Tuesday for its actions:

Earlier this week, it was discovered by school administration that Richmond Early College yearbooks had errors and inappropriate comments.

The principal immediately collected the distributed yearbooks.
We regret that this incident has occurred and are currently working with the yearbook's publisher to make corrections.

As a district, we do not and will not tolerate inappropriate conduct toward any of our students.

In each situation, our goal is to provide for the well-being of all of our students and prevent recurrences of inappropriate conduct.
G/O Media may get a commission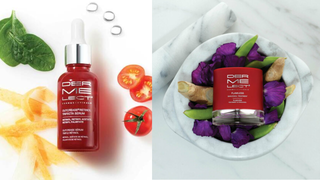 Save $19
Retinol Renewal Kit
Some on social media called the quote hurtful to the community, while others said they have no idea why the words "Build that wall" could be deemed racist.

One commenter, who showed the picture of the smiling young senior, wrote: "So Richmond County School System allowed this to be printed in their 2017 yearbook. I already knew this city was racist. Get a court date you'll find out. This doesn't surprise me at all. #Share."
Yet others thought it was all-out censorship: "Building the wall IS NOT RACIST!!!! Stupid, cowardly people. Good grief," wrote one person.
"[L]ast time i checked this was america. we give people the right to burn our flags, protest by stopping traffic on busy highways, but don't allow someone to put three words in a yearbook that really don't mean anything? give me an fing break. that school violated her civil liberties," wrote another.
Each student who purchased a yearbook will be fully refunded.
Richmond Early College High School has only 259 students. Last year the school was 65.5 percent white, about 22.7 percent Hispanic, about 4.6 percent black and about 7.3 percent other so-called minority groups.
Read more at the News & Observer.