First comes love, then comes marriage—and everyone knows what happens after that. Children are the expected outcome of matrimony. Now that gay marriages are legal, the kids of their unions are subject to even more scrutiny, on top of the years of criticism from socially conservative groups like Focus on the Family and Americans for Truth About Homosexuality.
But according to a recent study in the Journal of Developmental and Behavioral Pediatrics, the kids are more than just all right; many of them are thriving. While the study focused on the biological children of lesbian households, there's been tons of research—73 studies, meticulously reviewed by other social scientists—proving that stable same-sex partnerships, just like heterosexual ones, produce physically and emotionally healthy kids. The Root spoke to four same-gender families about the three factors they believe fuel their success.
Family Planning
According to LGBTQ-advocacy organizations like the Family Equality Council, successful gay families are often especially deliberate about planning for children. And many of those families are multiracial, with white parents raising kids of color. Gary Gates, retired research director of the Williams Institute, UCLA School of Law, a research center focused on sexual orientation and gender-identity law and policy, found that among white long-term couples raising children under age 18, 17 percent of single-sex couples have at least one nonwhite child, compared with 3 percent of different-gendered couples. In fact, single-sex white couples are more than five times more likely than their different-gendered counterparts to be raising nonwhite children.
Race mattered not for white-and-Latino couple Eva Smith, 44, and Liz Fuentes, 46, of South Orange, N.J., who are using pseudonyms to protect their African-American children's privacy. Parenting was an essential part of becoming a family, as was careful planning. 
"As a woman, [wanting children] was almost innate for me," says Smith, who has been with Fuentes for 20 years. "I wanted to be a mom, and there are so many children out there who need loving families—we weren't concerned with the genetics."
G/O Media may get a commission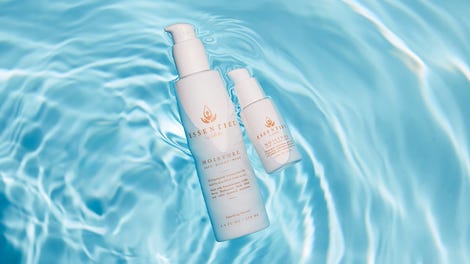 20% off
Essentiel by Adele
Ten years ago, the couple began the adoption process of their two black sons, Peter and Adam, both age 10. After completing nearby New York's rigorous process of workshops designed to prepare parents for adoption, which includes extensive background checks, a home study and home inspection, Smith and Fuentes were matched twice by the state with foster children they eventually adopted. The family have since relocated from the busy streets of Brooklyn, N.Y., to the quieter New Jersey suburbs to give their children the best possible quality of life and access to competitive schools that could address the boys' developmental delays. 
Sometimes a child's geographic upbringing can be both a help and a hindrance. Growing up in rural Maine, for instance, gave Family Equality Council Co-Interim Executive Director Brent Wright, who is white, a quiet life, but left his desire to be a father "a dream deferred" because he'd never seen any gay families. As his community evolved and changed, so did his prospects for parenthood. He and his husband, Sandis, who have been together for 25 years and live in Andover, Mass., with their two black daughters, went forward with adoption after months of classes and meetings with clergy, mentors with social services experience and people of color.
"[We] had a really good grounding in the importance of cultural respect and understanding what it means to transracially adopt," says Wright. Their girls, Olivia and Noelle, are 7 and 2 and participate in gymnastics, theater and ballet.   
Honest Conversations
Though today's climate for LGBTQ families is stronger than in years past, parents must prepare themselves and their children for the realities of intolerance and hatred of all kinds. Yvonne and Rebecca Johnson, both 33, are a black lesbian couple raising their sons, Raphael, 12, and George, 14, who are Yvonne's biological children. They live in Columbus, Ga., where their closest neighbor has a Confederate flag proudly on display. (The family's names have been changed to prevent personal and professional backlash in their conservative hometown.) 
"When the kids were young, we explained to them that people might say or do hurtful things [because of our family]," says Yvonne Johnson. 
George, a ninth-grader with a passion for acting, is grateful for the confidence instilled by such conversations. 
"When I tell people I have two moms, sometimes they look at me funny," he says. "But I know my family is just as good as anyone else's, so their reactions don't bother me."
Raphael adds, "I love both my moms, and nothing anyone says or does can change that." 
The boys keep that in mind when they are subject to microaggressions like not being invited to a popular kid's party, or when local parents decide that their children aren't allowed inside the Johnson house.
The family migrated to Columbus for work and plan to move back to the more-tolerant metro Atlanta area as soon as Rebecca and Yvonne Johnson find better jobs. In the meantime, Raphael and George are A and B students who've made the best of their situations through sports and drama, and making friends with other kids.
Often it's gay parents who face prejudice in their journey to raise happy, whole kids. Kristin O'Connor, 40, and her wife, Janet—white moms to one black son and one Latino son—had to contend with prejudice while they trained to be foster parents.
"Our agency was great, but some of the individuals in our training group, not so much," says Kristin O'Connor. "There was a lot of blatant homophobia. [We were asked] what would you do if you had a foster child that turned out to be gay? Someone responded, 'I wouldn't want no [f—got] in my family.'" 
The experience strengthened their resolve to adopt, and empowered them to speak frankly about bias with their kids, who, luckily, have yet to experience any.
And sometimes, discrimination comes from a much closer source. As a black child raised by a white lesbian couple in the nineties, Tony Hynes, author of The Son With Two Moms, had to battle against prejudice from his own biological relatives. Placed in foster care at 18 months because of his mother's schizophrenia, he was adopted a year later by moms Janet and Mary Hynes. Within a month of his adoption, his birth mother and grandmother appealed, and it was overturned. 
"The courts said that the only place I had ever called home wasn't the right place for me to grow up, and that my moms were unfit to raise me because they were white and gay," Hynes recently remarked during a fundraising event.  
He's a member of Outspoken Generation, a Family Equality Council program that empowers the children of LGBTQ parents to share their experiences growing up and to advocate for better laws and ultimately more same-sex adoptions.  
"My moms taught me many lessons, but one always stays with me," he said. "They said that hate is taught in the same way as love. And that I should feel sorry for those who were raised to hate someone without even knowing them."
In spite of the brutal court decision and losing Mary Hynes to cancer at age 12, Tony Hynes recalls his childhood fondly. He grew up playing soccer with his next-door neighbors, attending Kwanzaa events and getting his hair cut at Ebony Barbers in Prince George's County, Md. 
"My mom Janet would sit there reading a newspaper or chatting with folks, and she'd be the only white person in the place," he says. "Janet was always a G."
Child-Centered Households
Like other families, the key to success for gay parents is putting the needs of their children first. Interracial couple Keldrick Wright, 36, and his husband, "E," 35 (who prefers not to share his full name), of Maplewood, N.J., dropped everything when they got the call that a friend needed help caring for her infant son, Zaidyn, because of ongoing personal issues. 
"We initially began keeping Zaidyn for overnight stays on the weekends," says Keldrick Wright, who is black. "Weekend visits turned into full-time care when Zaidyn was 2 months old, in an effort to help his mother get on her feet. We now have a shared-custody arrangement with Zaidyn's mom, who is active in his life," he reports. "We have also fostered positive relationships between Zaidyn and her four other biological siblings, whose ages range from 9 to 13."
Similarly, Smith and Fuentes work hard to strengthen the bonds between Peter and Adam, who are not biologically related, as well as maintain their overall family ties. They make it a point to travel frequently with the boys, who get to choose the destinations. When they're at home, there are dinner table discussions about current events, equality and cultural appreciation.
"Our children are very socially and culturally aware," says Smith. "Liz is first-generation Cuban American, so they are exposed to African-American and Afro-Cuban culture, as well. We use the curriculum at school to go more in-depth about prominent figures in African-American history. The text books barely touch upon African-American history; therefore, we supplement."
For Yvonne and Rebecca Johnson, being child-centered means prioritizing family time. When they aren't helping their boys with homework or shuttling them to and from drama club and football practice, the family members are playing charades or spades during their weekly game night. 
"I wouldn't trade Mama Becca for anything, even though she cheats when we play cards," says Raphael, laughing. "The world is made up of all different types of families, and ours is perfect."
Tomika Anderson is a freelance writer, editor, producer and military brat who has traveled to 36 countries and counting. Follow her on Twitter.