Renowned ballerina Misty Copeland was made a principal dancer with the American Ballet Theatre on Tuesday, becoming the first African-American woman to hold the position with the company, the New York Times reports. 
The promotion, the Times notes, brings to realization a well-known ambition of Copeland's, who wrote about wanting to secure the promotion in her memoir, Life in Motion: An Unlikely Ballerina. "My fears are that it could be another two decades before another black woman is in the position that I hold with an elite ballet company," the Times quotes from the book, which was published last year. "That if I don't rise to principal, people will feel I have failed them."
Copeland has been performing with the company for more than 14 years and has spent eight of those years as a soloist. Her candor in speaking about ballet through the scope of race has drawn attention to her outside of the traditional dance form, making her name relatively well known around the nation. She was featured on the cover of Time magazine this year, was profiled by 60 Minutes and was the subject of an Under Armour ad that went viral. She was also a 2014 honoree for The Root 100. Just last week, she played the lead role in Swan Lake with ABT, becoming the first African American to do so.
The title of principal dancer brings with it more respect in the dance world, along with a bigger paycheck, bigger roles and more pronounced brand promotion—that is, photos in dance programs and bigger typeface for the individual's name, the Times notes. 
Seemingly a dream come true.
The Times notes that over the last year, her performances have become events, with huge crowds gathering to cheer for her at the Metropolitan Opera House. After her performance of Swan Lake, a crowd of fans wanting autographs and pictures became so large that individuals had to be moved away from the stage-door area. As Copeland exited the theater, the excited crowd began to cheer. One person could be heard saying, "Principal! Principal, Misty! Principal," according to the Times. 
G/O Media may get a commission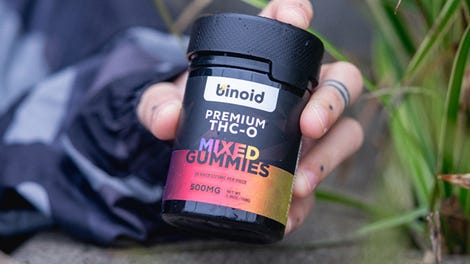 25% Off + Free Shipping
Binoid THC-O Gummies
"Thank you so, so much for your support. It means so much to me to have you all here," Copeland told the crowd before signing autographs and taking pictures, the Times reports. "It's such a special day for me, and for so many people who have come before me. So thank you for being here on this amazing day."
Read more at the New York Times.