A Tarrant County, Texas, judge declared a mistrial Wednesday morning in the case of a white Fort Worth, Texas, police officer who shot a black man holding a barbecue fork in front of his own home.
According to WFAA, at approximately 3:30 a.m., June 23, 2015, Police Officer Courtney Johnson was in a residential neighborhood responding to a call of a prowler carrying a knife. At around the same time, Craig Adams, then 54, stepped outside his elderly parents' home for fresh air.
Adams was holding a barbecue fork in his hand.
Johnson approached Adams with his weapon drawn. In video footage, Adams can be seen appearing to comply with the officer's commands, but as he kneels on one knee, Johnson shoots him in the shoulder.
Adams survived the shot but had to recover in a rehabilitation unit.
G/O Media may get a commission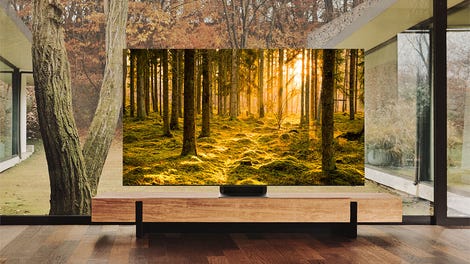 Up to 40% off
Samsung Smart TVs
Johnson claims that Adams "put him on edge" with his behavior and that he accidentally discharged his weapon.

Read his description of events from the Star-Telegram:
"I need to be ready to fire," Johnson said. "He dropped the knife directly in front of him. But it took him so long to do it. If he heard me the sixth or seventh time, he heard me the first time. That means he's picking and choosing what he's going to do."

Johnson, who said he was also apprehensive because Adams did not drop to both knees as commanded, disengaged his safety, pumped the shotgun, pointed his weapon at the suspect and held his trigger finger at the ready.

That's when the gun went off, Johnson said.
During the trial, under examination by prosecutor Tamla Ray, Johnson said that he doesn't believe the gun malfunctioned or misfired. Still, Johnson's lawyers maintained that the shooting was all one great big misunderstanding.

"He didn't intentionally do this," attorney Jim Lane said.
At least some jurors agreed with Johnson—that a black man standing in a yard holding a barbecue fork must be a dangerous prowler holding a knife ready to pounce. So, after four-and-a-half hours of deliberation Wednesday morning, they deadlocked 5-7, and the judge declared a mistrial.
It is unclear which side was in the majority.
In a statement, Tarrant County District Attorney Sharen Wilson said that she will consider the jurors' inability to reach a consensus in deciding whether to retry the case.
Johnson faced a charge of aggravated assault by a public servant, which carries a sentence of up to 99 years or life in prison, WFAA reports.
Watch the dashcam footage below.
Trigger warning: police violence.
Adams says that Officer Johnson called him a racial slur, but the Fort Worth Police Department says there is no evidence of that.
"I want to make sure the community understands that we're removing the specter of racism and allegations of suppressing any kind of video evidence," said Fort Worth Police Chief Joel Fitzgerald during a press conference last March.

Fitzgerald surrounded himself with black and Latino police officers as he made the claim.
"In light of recent events nationwide, we support the chief's choice to support transparency," said Police Sgt. R.L. Hudson of the Black Police Officers Association.
Fear and negligence seem to be solid defenses for police officers when the victim is black, but there's not a lot of transparency from the boys and girls in blue about that often fatal problem.
As previously reported by The Root, former New York City Police Officer Peter Liang was convicted of manslaughter in the 2014 shooting death of Akai Gurley, but he skated out of court with five years' probation and 800 hours of community service.
This, after Liang "accidentally" shot and killed Gurley, 28, when he shot down the dark stairwell of a Brooklyn, N.Y., public housing complex because he heard a noise.
It was dark and he was frightened—and a black man is dead because of it.
I would be curious to know how many white people are shot "accidentally" by police, but I'm not sure there's enough statistical relevance for those numbers to be compiled.
This is not opinion; this is a fact that we've seen over and over and over again: When it comes to engaging black people, police officers seem to always be trigger-ready.