(The Root) — For as long as Africans in America have been producing music for the recording industry, there's remained a tension between black performance styles and the mainstream society that benefits. This hasn't always been a bad thing. There are times when the use of black style and form has moved pop culture to new heights, making the selling of black song, sound and dance very profitable for many black artists. Take Dr. Dre and Eminem, for example. Even consider Akon, who sprinkled a little bit of blackness on Lady Gaga when he signed her to Kon Live Distribution, and rocket-launched her career into the stratosphere by co-writing "Just Dance" for The Fame.
But at other times, the appropriation of black culture descends into rank minstrelsy, not only mocking the people, the community and the music it inspires but also devaluing the features and techniques that enhance these cross-cultural performances.
This tension was on display in its purest form last Sunday night at the MTV Video Music Awards. On the one hand we had the authentic: Justin Timberlake, whom Jimmy Fallon called the Prince of Pop. But on the other, there was Miley "Gone Mad" Cyrus.
In the span of about 45 minutes we saw the heaven and hell of appropriation, which once again reminded me that there's a thin line between cultural exchanging and straight-up perversion. Artists similar to JT always add value to the soul aesthetic when they appropriate the right way. Their natural appreciation for it shines through effortlessly when they perform. However, those like Cyrus, who have yet to engulf themselves into the culture, just end up making a plumb fool of themselves and pissing off a bunch of people — black, white and in between.
For example, in a failed attempt at twerking, which is a form of dance rooted in the African Diaspora and performed by male and female dancers, the former Disney star gave Robin Thicke an amateur tipdrill during their "Blurred Lines" duet. Thicke looked like a Foot Locker employee, and Cyrus resembled a feline in heat, wearing pigtails on the top of her head that resembled cat ears. Poor taste, to say the least. The downer of the evening.
G/O Media may get a commission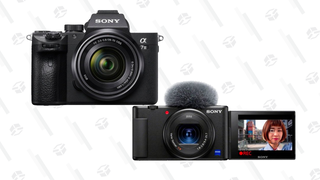 Cyber Monday Deals
Sony Camera Sale
The controversy came out of left field just 45 minutes later when Timberlake took the stage for a 15-minute medley of hits. He began with his new single, "Take Back the Night," and ended with "Mirrors." Besides the fact that JT has that cool-white-guy-with-soul thingy down pat, there were at least two other highlights of JT's mini-concert: the NSYNC reunion and the remix of "SexyBack," in which he requests, "Let me see what ya twerkin' wit," before declaring, "I still run this bitch." 
I'm not sure if JT was referencing anyone in particular in this shout-out, given that only a few minutes earlier little Hannah Montana failed miserably in an attempt at twerking. What I know to be true is that JT has developed a natural and unforced authenticity that fosters endorsement from the black community when he sings and dances. Cyrus' style of appropriation looks forced, nnatural and disrespectful.
JT has figured it out partly because of his artistic development under the direction of super-producer Timothy Mosley, aka "Timbaland." And Timbaland, being the musical genius that he is, saw a real sense of soul in a young Timberlake. JT doesn't try to "act black." He's simply a white guy from Memphis, Tenn., who has been successful in crossing over from a majority only-white audience when he was with NSYNC to a substantial black audience post-NSYNC.
Timberlake has since come to Cyrus' rescue, saying on New York's Fresh 102.7 that she was just letting the world know that she's growing up. 
OK. She's 20 years old and needing to rage against the Disney machine. I get that part. But here's the hell this creates when black cultural performance is used as a weapon of choice to rebel: It objectifies black female bodies as tools for expressing opposition toward some set norm of behavior, and reinforces deep-rooted stereotypes about the hypersexuality of black performance styles. Cyrus' growing pains should not be experienced at the expense of black people and their culture.
To help me understand Cyrus' identity crisis, I spoke to Mark Anthony Neal, a professor of African-American studies at Duke University and author of Looking for Leroy: Illegible Black Masculinities; Atlanta-based rapper Mike Render, aka Killa Mike (see Outkast's "Whole World" and RAP Music (Grindtime/Grand Hustle); and a former Atlanta stripper who once twerked as a means to getting through college debt-free.
"Miley Cyrus needs an apprenticeship," said Neal. "The bottom line is it was a bad performance. And because she can't pull it off, it made it that much worse. The problem is that she thinks that she can, which is actually a reflection of the larger culture's devaluing of what we do. This idea that anybody can do it."  
"Twerking requires agility and a strong core," added the former Atlanta dancer. "That's one of the reasons why you see all of these pole-dancing classes popping up. It is more than a sexual exercise."
This attention to detail is another reason for the poor execution. 
"Miley looked just like the 18-, 19-, 20-year-old white girls I see dancing to rap music at these wild parties," Render admitted. "So I'm not interested in Miley Cyrus per se. I'm more interested in putting the soul back in to our music. Who stole the soul?"
Black music minus the soul equals minstrelsy. If Cyrus has a real affinity for hood culture as she claims, then like Timberlake, she should find a mentor to teach her about authentic black cultural production and performance. It makes economic sense for artists like Mike WiLL to work with her on his single "23" and for Big Sean to make her the subject of his video for "Fire." However, these attempts, along with the Cyrus drug references in rap music, barely scratch the surface.
As alluded to by the anonymous stripper, "When these people do these things like mention [Cyrus] in drug metaphors and embrace her, she thinks it's OK to perform like that and bite off their style, because to them it's so cool and popular. But to those of us who were born into black culture and who have had to live that hood life out of choice or necessity, it is part of who we are."
Joycelyn A. Wilson is an assistant professor at Virginia Tech and Hip-Hop Archive Alumnus Fellow at the W.E.B. Du Bois Institute for African and African American Research at Harvard University.
Joycelyn A. Wilson is an assistant professor in the educational foundations program at Virginia Tech and director of the Four-Four Beat Project. Follow her on Twitter.