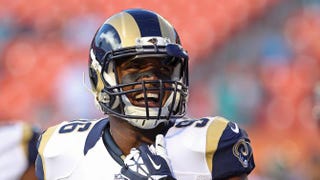 Looks like Michael Sam may still have a future in the NFL. After being cut from the St. Louis Rams this past week, Sam flew into Dallas late Tuesday night and took a physical Wednesday. Now ESPN is reporting that the Dallas Cowboys have signed the rookie to their practice squad.
"It's been a roller coaster this past week, but I'm happy where I'm at now," Sam told the Dailiy Mail. "I'm just looking forward to being a Cowboy; my focus is on making the team."
Sam, who made national news lin February when he announced that he was gay, was drafted by the St. Louis Rams in May, No. 249 overall. He played well during the preseason, with 11 tackles and three sacks, but was unable to crack the Rams' roster. Now that he has signed to the Cowboys' practice squad, he will become the first openly gay athlete to play for an NFL team.
"It has all happened so quickly, but it's exciting. I just wanna get back to playing football, you know," Sam told MailOnline. "I haven't had a chance to speak to any of my family yet, not even my mom, but I will. I never followed the Cowboys growing up because I never had a team. I am a fan of defenses, and Dallas need some help; that's why I'm going."
Read more at ESPN and the Daily Mail.