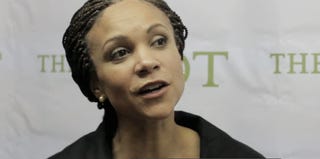 (The Root) — Melissa Harris-Perry, host of her own MSNBC show, would not have found success without the support of her parents and mentors, she told us last fall at The Root 100 gala in New York City. Because of that, she likes to pay it forward and help as many people as she can. Her best piece of advice? Be your authentic self.
"I'm always excited to see, particularly women of color,  and young women of color, just being their full whole selves without feeling like they have to fit into a very narrow box," said Harris-Perry, who was No. 1 on The Root 100 list for 2012, our annual list of the most influential African Americans. 
See what else she had to say about "The Root of My Success" below.