Go down a wormhole, but make it fashion. This was pretty much how I spent Tuesday night, watching video after video on Vogue's YouTube channel, where all of our Met Gala faves were featured talking fashion, true confessions, and their takes on the night's theme, "Heavenly Bodies: Fashion and the Catholic Imagination."
Let's start with the night's co-host, Rihanna, wearing a custom-made papal-inspired ensemble by Galliano. "It feels expensive," she said. "It would be a sin not to wear it." Of course, she also confirmed that her glowing skin was courtesy of Fenty Beauty's Body Lava. ("You already know," she said.)
And then there was Issa Rae, who invited us into her suite at the Mark Hotel midbraiding session with stylist Felicia Leatherwood, who convinced Rae to eschew the traditional whiteness of Catholicism and "tap into [her] roots" for her first Met Gala. As she said, "I mess wit it!"
Speaking of braids, a radiant Solange gave us the inspiration behind her braided halo (if you thought Black Madonna, you thought right) before expressing her excitement because "my do-rag says, 'My God wears a do-rag."
Y'all, I die.
Solange also left us with a little confession/fashion tip that involves lube ... wait for it. I promise, it'll save you in your next pair of stilettos.
But wait, there's more! Want a closer look at Michael B. Jordan in Virgil Abloh's first Off-White suit design (while host Liza Koshy nearly swoons)? Check. How about Nicki Minaj's temptation plans? Check. Want to know what Tiffany Haddish drank before her first Met Gala (hint: not turpentine)? Check. What Cynthia Erivo was thinking with those bedazzled brows? What Jaden Smith was thinking, period?
G/O Media may get a commission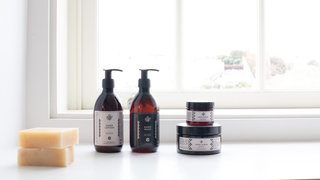 Exfoliate and Hydrate
The Handmade Soap Company
How long did 2 Chainz plan that red-carpet proposal? Who designed Idris Elba's suit? How many times can Migos say "drip" in 45 seconds?
It's all there; you can giggle with Daniel Kaluuya, talk minimalism with Diddy and Cassie, and hear firsthand what Donald Glover's intention was behind "This Is America."
And kudos to the adorable Liza Koshy for keeping both her cuteness and composure intact while talking to some of the hottest talent in Hollywood and beyond. It was refreshing to see her fangirl out in much the same way we likely would, and provide a much-needed dose of realness in a fantasy-fueled event. In the immortal words of the night's superhero, Lena Waithe: "Let's do it. Let's not be afraid to be who we are."