Perhaps no phrase encapsulates the sentiment of the struggle for freedom, justice and equality more than "I am a man."

Every day during the 1968 Memphis, Tenn., sanitation workers' strike, Memphis' black sanitation employees would meet downtown at the historic Clayborn Temple. When the men arrived, they would pick up picket signs that read, "I am a man," and march downtown to protest the unequal wages and unsafe conditions to which they were subjected by the city of Memphis. The signs, printed in the basement of Clayborn Temple, became one of the iconic slogans and symbols of the civil rights struggle.
The strike had been going on for weeks before the Rev. Martin Luther King Jr. decided to join the striking workers. It began when Echol Cole and Robert Walker lost their lives in a trash compactor and ended shortly after King was gunned down on the balcony of the Lorraine Motel.
On Thursday the city of Memphis formally acknowledged its role in the strike and the part it played in the events that led to the death of King when it dedicated the new I Am a Man Plaza.
Seated next to Clayborn Temple, I Am aMan Plaza is framed by a marble entrance that features quotes by King and others involved in the sanitation strike. Markers encircle the plaza, each one recounting the timeline of the strike.
G/O Media may get a commission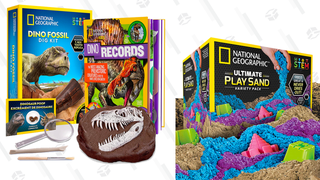 Up to 33% off
National Geographic Science and Activity Kits
The centerpiece of the space is the I Am a Man sculpture. Designed by sculptor Cliff Garten, who won the national competition to create the project, the bronze-and-stainless-steel piece features the iconic quote with the words of the sanitation workers carved into the body of the work.

Along the border of the plaza is a wall with the names of each of the 1,300 sanitation workers etched into marble.
"A few family members of the sanitation workers came to the park and just wanted to touch the names," said Garten tearfully. "It is a really incredible thing."
Minority contractors designed, managed and constructed the project, funded by the city of Memphis.
"This is the first time the city of Memphis has formally acknowledged its role in the sanitation strike," said Ursula Madden, chief communications officer for the city of Memphis. "We hope that it would inspire the future generations to stand up for what is right."