In more "Kendu be buggin" news …
It appears that on her current King and Queen of Hearts Tour with R&B crooner Maxwell, singer Mary J. Blige is opening her shows with photos of tabloid headlines from her divorce drama.
Her estranged ex, Kendu Isaacs, says that such public displays are a "campaign to destroy" his reputation, "shame" him and financially suffocate him" in his quest to get more than $129,000 per month from Blige in alimony.
According to court documents obtained by the Daily Mail, Isaacs says Blige "opens her show by displaying various images of tabloids pertaining to this dissolution in an attempt to paint herself as the victim and Mr. Isaacs as the villain." And they've got video from the concerts to prove it.
Blige, who filed for divorce in July, recently asked the court to delay their December spousal support hearing to February so that she and her lawyer can be in attendance.
Isaacs claims that if the hearing isn't held in December, he will run out of money because he has been fired as Blige's personal manager. He notes that his checking account is currently overdrawn, with a negative balance of $13,104.
G/O Media may get a commission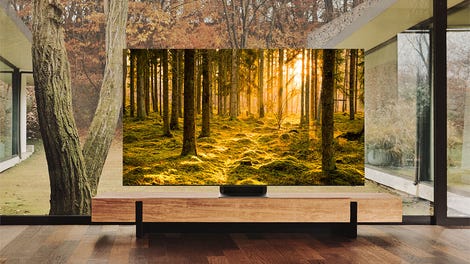 Up to 40% off
Samsung Smart TVs
Incredibly, even though he admits to making "only" $46,204 a month as her manager, Isaacs is requesting that MJB pay $129,319 out of the $161,434 he says he spends every month. This includes an $8,000 private chef and $3,200 personal trainer; $5,000 he pays his parents each month; $71,000 in rent he owes to several properties; $5,000 a month in support for his two children; $2,500 on auto expenses and transportation; $5,708 in maintenance and repair on his properties; $5,732 on groceries; $21,677 in charitable donations; and $10,000 he spends on entertainment, gifts and vacations.
Since August, Blige has given Isaacs a total of $135,000.
Two days before their December 2003 wedding, Isaacs signed a prenuptial agreement but is now claiming that it's invalid because he did not have a lawyer present.
For more of black Twitter, check out The Chatterati on The Root and follow The Chatterati on Twitter.