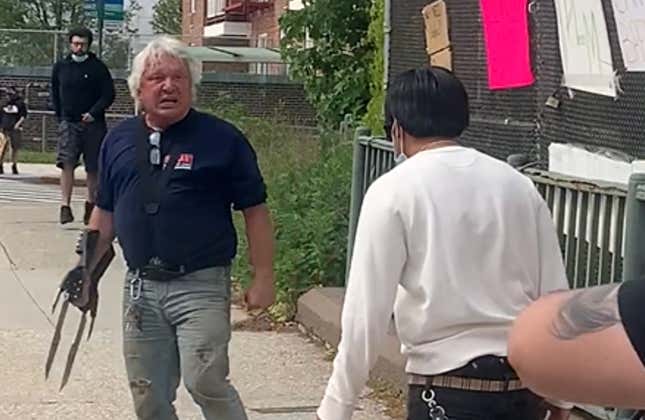 Justice was served to yet another person who decided to harass Black Lives Matter protesters unprovoked. This time, it was a man from Queens, N.Y., who crafted a claw-like weapon reminiscent of Wolverine, the ferocious antihero from the Marvel Cinematic Universe. The problem here is Wolverine's a figment of his creators' imaginations while this guy, and the threat he posed, are all too real. 

Frank Cavalluzzi was found guilty on nine counts of attempted murder, attempted assault and several counts of possession of a weapon and menacing, and now faces up to 25 years in prison, according to the  Queens District Attorney's Office.
Small Town Horror Story: The "Suicide" of Sandra Bland
On June 2, 2020, police say Cavalluzzi pulled up to a peaceful BLM protest in his SUV cussing and causing a ruckus. After spewing racial slurs and throwing the ol' "You're in the wrong neighborhood" line, he parked his car and hopped out with a weapon— a four-bladed glove on his arm—and started swinging it at the demonstrators.

Oh and if you thought that was crazy, just wait. He didn't stop there, according to  The New York Times:
While wearing what Katz called "something resembling a horror movie prop," Cavalluzzi first pursued the protesters on foot then climbed back into his SUV and allegedly "tried to run the victims over with the nearly two-ton vehicle."

He allegedly hopped the curb, revved his engine and drove the length of the sidewalk, as the terrified victims scrambled for safety, some climbing a nearby fence, according to prosecutors. He fled the scene and was arrested two days later.
"A dangerous man is going to jail. It's a good day for New York and the First Amendment," said District Attorney Melinda Katz.
Cavalluzzi will find out how long he and his prosthetic knife be sentenced away from society on October 13.