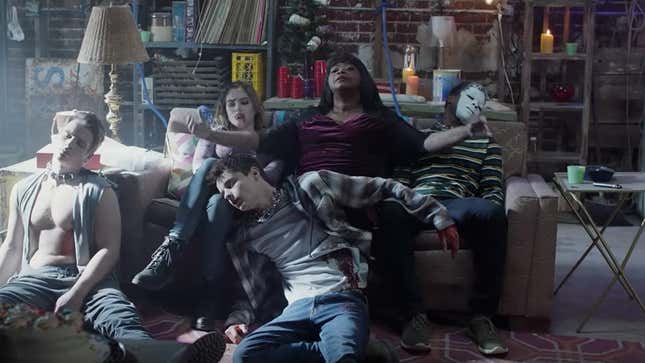 Ma has one mantra: "Don't make me drink alone." My response: "Don't drink around her, ever."
Comedian London Hughes Talks New Book, Parents Watching Her Very Sexual Comedy, & Beyoncé
Growing up, black kids learn two major things concerning "other" people, (meaning, outside of the family): You can't eat anybody's food, and you can't go over anybody's house. Ma is a film-based masterclass to remind you why.

I clearly remember my grandma and/or mama being extra-hesitant to let me spend the night at a friend's house if they didn't know the parents. Or if they did know the parents and they had roaches. Either way.
Before I get into the review, let me just say that Universal Pictures really does the damn thing with their marketing. For the film's release party, I opened a mail package containing the most unique function invitation I've ever received:
They did something similarly fun with Us, so I have to acknowledge that.
Okay, on with this damn movie.
Per the film's press release:
Everybody's welcome at Ma's. But good luck getting home safe. Oscar winner Octavia Spencer stars as Sue Ann, a loner who keeps to herself in her quiet Ohio town. One day, she is asked by Maggie, a new teenager in town (Diana Silvers, Glass), to buy some booze for her and her friends, and Sue Ann sees the chance to make some unsuspecting, if younger, friends of her own.

She offers the kids the chance to avoid drinking and driving by hanging out in the basement of her home. But there are some house rules: One of the kids has to stay sober. Don't curse. Never go upstairs. And call her "Ma."

But as Ma's hospitality starts to curdle into obsession, what began as a teenage dream turns into a terrorizing nightmare, and Ma's place goes from the best place in town to the worst place on earth.
So, this movie is fucking ridiculous in the most hilarious way. I think the term "campy" has been thrown around on social media and I think that's the perfect description. At several points of the film, I 'bout slid out of my chair in hysterics, simply from cry-laughing so hard at the theatrics and shenanigans.
As you need to experience this film the way it was intended if you're interested in seeing it, I will list my thoughts on the film without necessarily spoiling anything:
1. You see the screenshot in the cover pic? That's from the trailer. Cast your eyes on the young black boy on the far right. He is in whiteface. This moment is one of the highlights of the film. Particularly the line Octavia utters to him. My movie companion and foolery partner-in-crime, Darnell Lamont Walker leaned over to me and whispered, "Teddy Perkins."
2. Octavia clearly had fun filming this. There were so many over-the-top moments, including a dance scene set to "Kung Fu Fighting."
3. There's one particular moment in the movie (the very end, in fact) that made me think, "Hmm, hoteps are going to have a field day with the 'bedwench' colloquialism." Watch.
4. Speaking of which, I am aware of the obvious optics here: Ma is a maternal figure who takes a bunch of white kids (and a token black!) into her home so that they're not out in the streets driving under the influence. A "mammy" trope, sure. But, I'm finding it difficult to invoke a thinkpiece here because the movie itself is so outrageously trashy, I can't think straight enough to speak my piece.
5. There is a deeper backstory with Ma, though. It's pretty predictable as I figured it out from the trailer (not necessarily the specific trauma she experienced, rather the overall concept). I was entirely uneasy with her extreme case of arrested development, which explicitly turned into perversion. Wowza.
6. There's one specific scene at a beauty spa that I'm confidently calling the best scene in the entire movie. Shout-out to the shady extra who engaged Octavia in that scene. That shit had me in giggle-fits.
7. I'm just here for the white people torture porn.
Don't make Ma drink alone. You'll need several drinks after you watch this. Go with a foolish friend and have fun with the hot mess.
Ma stalks into theaters Friday, May 31.