You came, you saw, and we listened—and we're going to try to make it even better, blacker, and more beautiful, all year round. After the success of Black-Owned Beauty Month in February, we decided to create a weekly showcase for black beauty products, talent and entrepreneurs. That right: thanks to your feedback and enthusiastic response, Big Beauty Tuesdays are officially a thing!
Now, as much as I would've liked our very first Big Beauty Tuesday to be even bigger, you know what sucks? Trying to pack your entire life into a series of boxes (and subsequently, unpack them)—as many of you know is exactly what I was doing during Black-Owned Beauty Month. It was a challenge, but we made it, and I was determined we'd start March not only in a new home but with this new segment. And you know what doesn't suck? Arriving at a new home to find a box filled with new black-owned treasures!

That's what happened when a box arrived at The Glow Up's satellite office (also known as my apartment in Chicago) containing a full-sized array of goodies from Curls Dynasty, one of several black-owned brands now available at Target. Inside were the line's Give Me Slip Blast Hydration Conditioner ($14—also great as a co-wash), Pumpkin Mint Deep Treatment Deep Conditioning Masque ($16), Kalahari Smoothie Leave-In ($13) and Twisted Definition Twisting Cream ($15). After days of hauling boxes around, I was more than ready for a refresh—and coincidentally, couldn't find the box with all my other hair products in it—so, let's consider it fate.
First of all, can we just say yum? The all-natural ingredients founder Nickie Nougaisse has packed into these formulas are as refreshingly sweet and creamy as gelato on a sweltering day. (Seriously, you're going to be tempted to taste them. Don't do it.) But backing up the delicious fragrances and lush textures are results; my curls instantly felt hydrated, and slippage was an understatement.
One word to the wise: Know thy hair. I was doing great with a co-wash/condition/leave-in combination using the first three products listed above; but knowing that my strands easily get weighed down and go limp with too much product, I probably should've paused and waited for a day I wasn't also deep conditioning. But the Twisted Definition was simply too tempting to leave unopened, so despite the fact that I was exhausted, I applied some to my damp hair and braided it before bed.
G/O Media may get a commission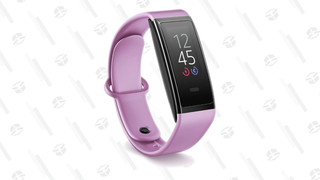 44% Off
Amazon Halo View Fitness Tracker
The good news: the twisting cream isn't sticky, greasy or crunchy in the least. It's moisturizing and definitely defining. The bad news: I hate the way my hair dries in braids, and the extra weight of the product made my hair even limper. I'll be trying Twisted Definition again when I have the time and energy for a two-strand twist or roller set, but in an unexpected twist (see what I did there?), there was more good news: the product worked beautifully as a heat-protectant when I decided to cheat by using a styling wand to create my curly style. In fact, with the heat speeding absorption of the product, my hair fluffed right up without sacrificing any shine or softness.
All said, between the formulas and the price point, this could very well become a habit. (All four products for less than $60? Sign me up.) And it's great to see Target continuing to do the great work of giving us options in the hair care aisle. There's clearly never been a better time to go natural.
Speaking of natural (and also delicious-smelling): a brand-new line of products that also arrived on my doorstep last week was a collection of all-natural whipped body butters from Flavorsome Skin. Granted, I almost didn't dig in; these butters were piped so gorgeously into the jar, it was like defiling a cupcake. Then, I remembered how much I like cupcakes, and carried on. Baby, when I tell you I was smelling like a sugar cookie after using these—in the best way possible!
Organic, vegan, fair trade and 100 percent preservative and chemical-free, these "almost edible" butters are also guilt-free—and yet, so decadent. Founder Shernell Cooke says the Flavorsome brand stands for Every Kind Of Skin is Beautiful," which simply means that we don't sell dreams, we just believe in taking care of the skin you have and embracing it," she tells The Glow Up.
Trying them out for myself, I can vouch that the formulas melt into your skin (mine was especially thirsty), leaving a gleaming but not greasy finish. They also tout wrinkle reduction, scar fading and anti-inflammatory properties among their many benefits. I received jars of both the Mango and Shea Whipped Body Butter ($14) and the Shea Whipped Body Butter ($15); both smell and behave wonderfully, but whew, did that Mango win my heart! Flavorsome also makes a Mango Hair Souffle ($14); I haven't tried it yet, but if it smells as good and performs as beautifully as the body butters, it may have to make its way into my medicine cabinet!
And finally, a lewk, which was prompted by both the playful mood I was in today and the impending return of one of my favorite shows (and likely yours), Game of Thrones. Since Beauty Bakerie founder Cashmere Nicole paid homage to the HBO series with her Game of Cones palette ($38), it only seemed right to celebrate the release of the show's latest trailer with a "seven kingdoms"-inspired eye using her shades—which I dipped into wet for extra pigment and control. And yes, I really did use 7 of the 12 shades in this palette, including Storm, Slay Scale, Beat's Landing, Wild Things, Snow Queen, Cakester and Dragon Cone. Granted, the effect was more "'80s Baby" than "Mother of Dragons," but I had fun—and isn't that the point?
What's up next Big Beauty Tuesday? You tell me! Is there a topic you want to see on deck? Let me know in the comments. Got a brand I should know about? Tag me at tips@theroot.com. See you next week!