Lizzo knows what it's like not to see yourself represented—in fashion, on TV, in films. She also knows that when you're not deemed worthy enough to be represented (or even marginally included), loving yourself is often an uphill battle.
"I would watch things on television and I would look at magazines and I would not see myself," she tells British Vogue. "When you don't see yourself, you start to think something's wrong with you. Then you want to look like those things and when you realize it's a physical impossibility, you start to think, 'What the fuck is wrong with me?' I think that took a greater toll on me, psychologically, growing up than what anyone could have said to me."
That's why seeing Lizzo on the cover of British Vogue's December issue—her first Vogue cover—draped in plunging black Versace with a feather boa from Adrienne Landau, is such a deeply emotional experience for those of us who have rarely if ever seen bodies like our own elevated as beautiful, fashionable and worthy of being seen and dressed by fashion's elite. Lizzo's cover, seemingly printed in 3D, invites us to appreciate her beauty in full.
Plus-sized bodies covering Vogue have been rare—and often inserted as a token within groups of slimmer frames. Even Oprah reportedly slimmed down to a size 6 for her first Vogue cover in 1998; thankfully, her last appearance captured her in all her full-figured glory. But while many of us will be clamoring to get British Vogue's December issue for its rare display of body positivity (the same quality many of us respond to in Lizzo, along with her undeniably infectious bops), the entertainer insists it's never been a gimmick.
G/O Media may get a commission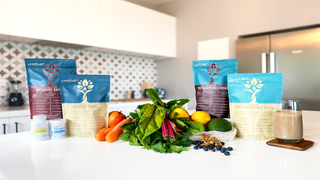 "Anybody that uses body positivity to sell something is using it for their personal gain. That's just it," she tells Vogue. "We weren't selling anything in the beginning. We were just selling ourselves and selling ourselves on the idea—selling ourselves on ourselves, you know?"
"I'm not trying to sell you me," she adds. "I'm trying to sell you, you."
Whatever the marketing plan, we're sold. For those who have been starved for representation (including this veteran plus model-turned-fashion editor), the rise of Lizzo has been a healing balm. She is a brown-skinned, big-bodied, unfiltered, unapologetic presence in a world that all too often asks us to apologize for not fitting its narrow definition of beauty (literally and figuratively).
So, in this season of giving, maybe this is the moment of self-care we need; the gift that keeps on giving, if you will. Just a reminder that acceptance is an inside job—and Lizzo is leading the charge.